An Expectant Easter
Regular price

Sale price

$32.00
An Expectant Easter is a Bible-based, Charlotte Mason-inspired curriculum designed with your whole family in mind. It's an invitation to gather your family to center your hearts on what Easter is all about. Through Bible stories, hymns, poetry, art studies, picture books, projects, baking, tea time, and nature studies, your family will spend three weeks connecting together and focusing on the newness of Spring, the sacrifice that Jesus made, and the power of His resurrection. This curriculum is designed for the three weeks leading up to Easter with lessons for Monday through Friday, but you can easily adapt to more or less time.
What is included?
Teacher's Guide with weekly grids, daily lesson plans, recipes, and handcraft instructions, 66 pages

Set of Student Sheets with scripture, artwork, poetry, and hymn display sheets with copywork pages, 25 pages

Narration Notebook, 12 pages
We suggest you print or purchase additional Narration Notebooks & Student Sheets for each child in your family.
Description

The foundation of your lesson time will include reading a passage of scripture to your children. These passages will be studied in chronological order to complete the crucifixion and resurrection story by the end of the curriculum. Children will love opening a Bible Story Easter Egg each day that a new story is read, which holds a clue to the day's story. Children will orally narrate each Bible story and complete a written narration in their "Easter Story Narration Notebook." They will then illustrate the day's passage, completing a 12-page keepsake by the end of the season.

Each week your family will also memorize a passage of scripture, worship together with a hymn, enjoy a poem, and study a biblically-themed piece of artwork. Along with that, each day you will snuggle together and read an Easter-themed picture book and then enjoy a coordinating handcraft or baking project that reiterates a theme in the story. On Fridays, you will have a sweet time together over tea and a treat and reflect on all you have learned. You will also complete a gentle and engaging Spring-themed nature study. 
Digital Download Details

This file is a digital download and will be sent to the email address you use to checkout. The study is a compressed .zip file that contains folders with the Teacher Guide, Student Sheets, and Narration Notebook.
Hard Copy Details

This hard copy curriculum will be professionally printed on a commercial-grade printing press on sturdy 70 lb. weight matte paper. All hard copies ship in 3-5 business days. The hard copy includes:

- 1 Teacher Guide, 66 pages, spiral-bound with a glossy cardstock cover.

- 1 set of Student Sheets, 25 pages, printed single-sided on heavy-weight paper.

- 1 Narration Notebook, 13 pages, spiral-bound with a glossy cardstock cover.

This will guarantee your artwork and display pieces are of the highest quality and can be used for many years. All hard copy purchases also include the digital files sent to the email address you use to check out.
printing guide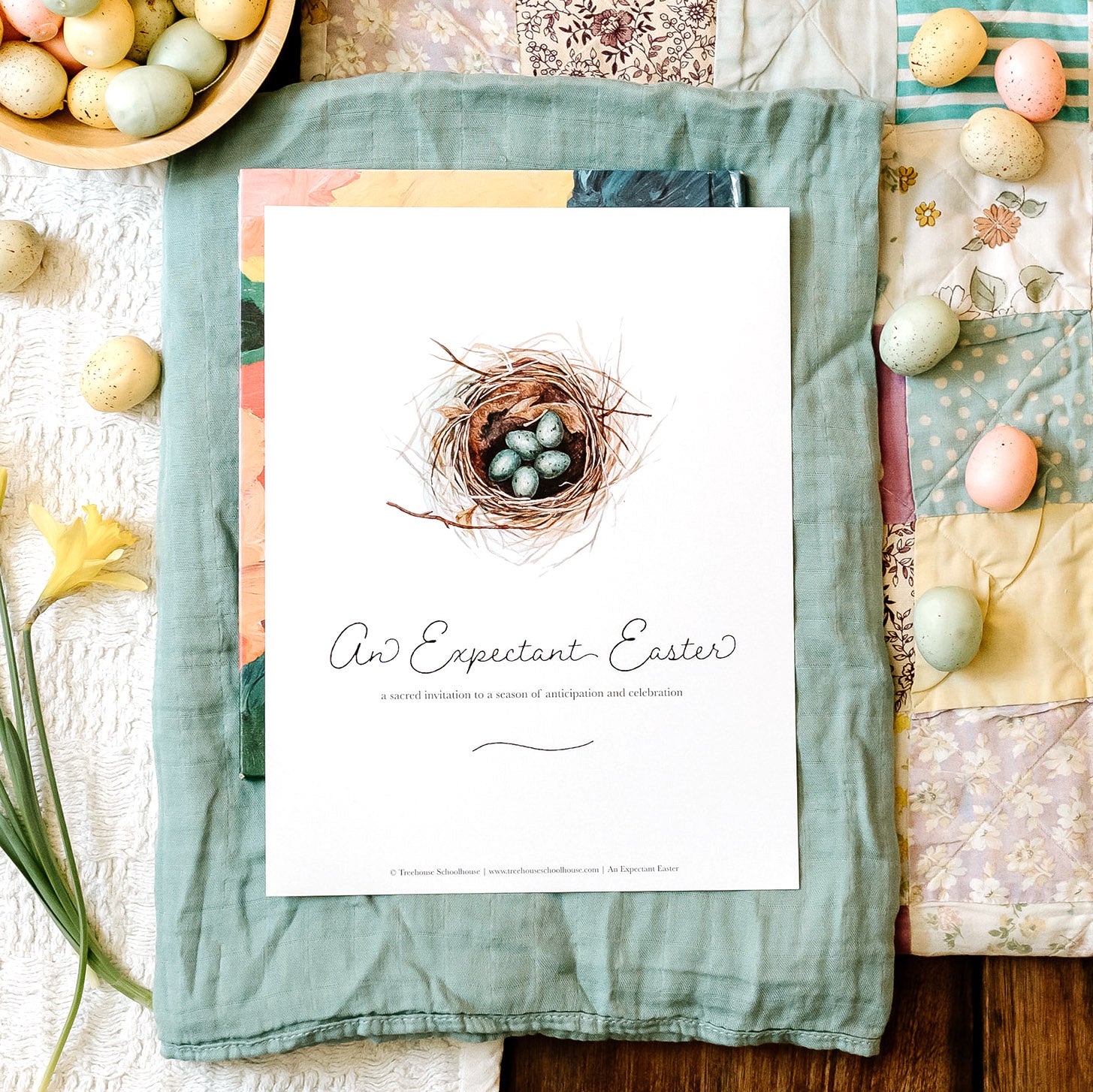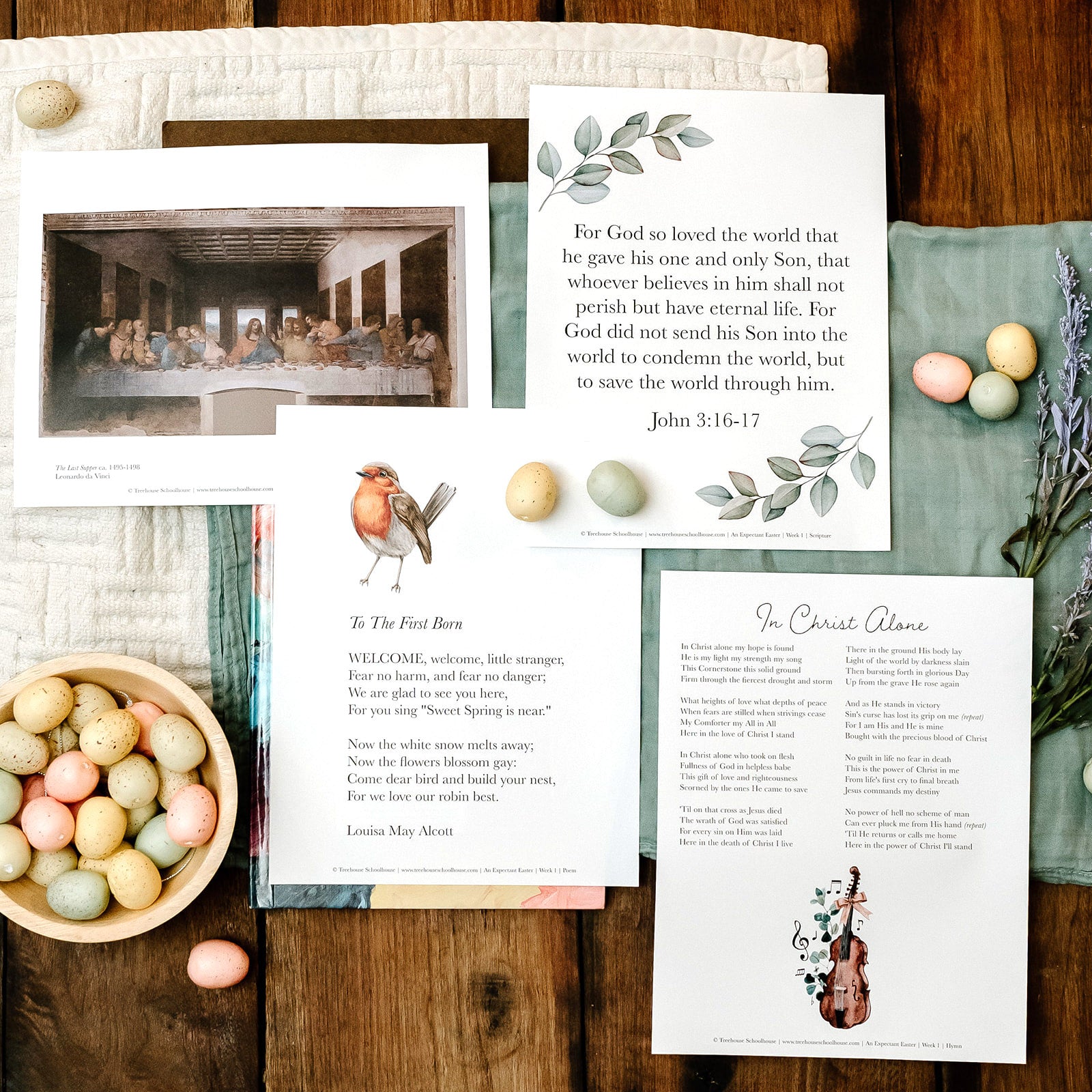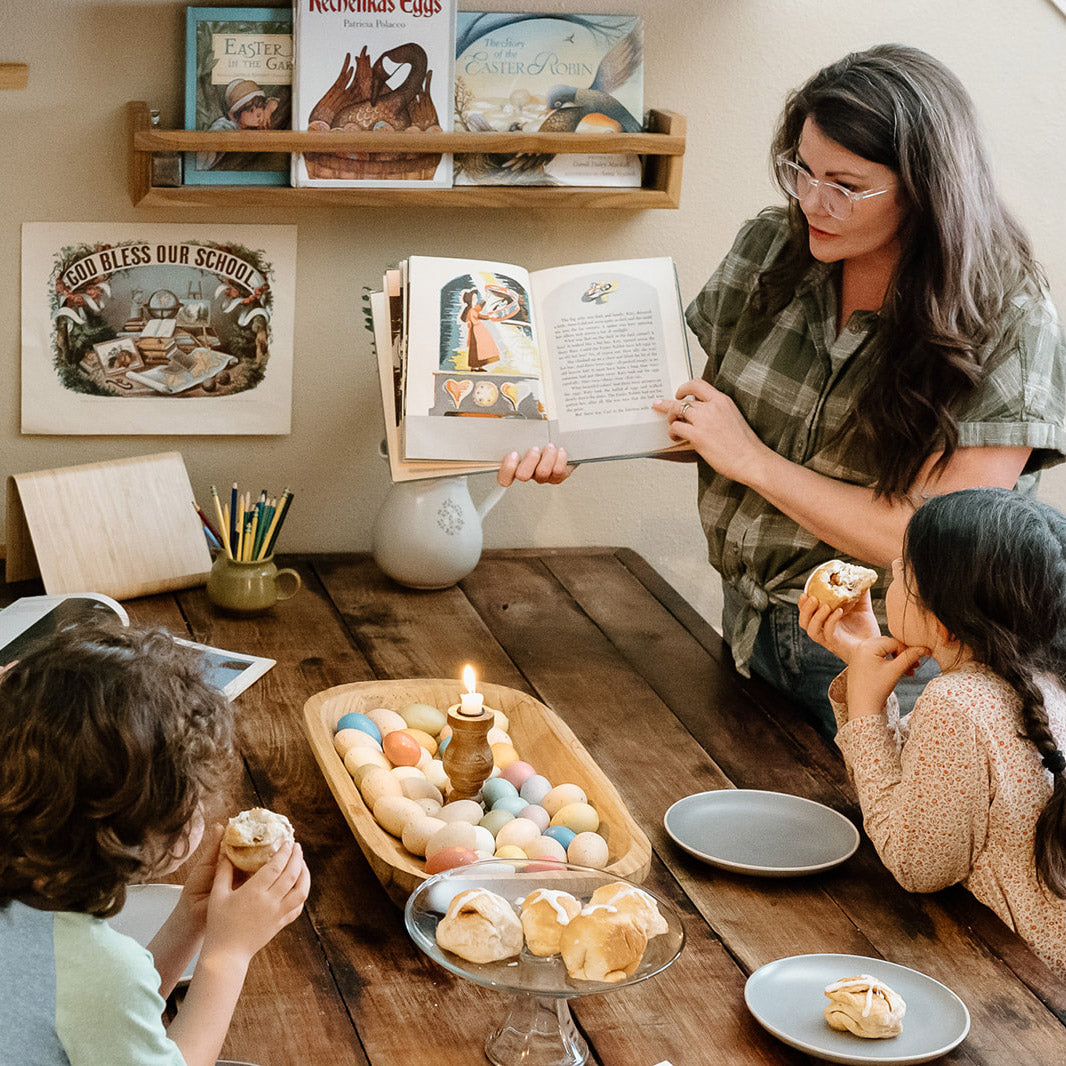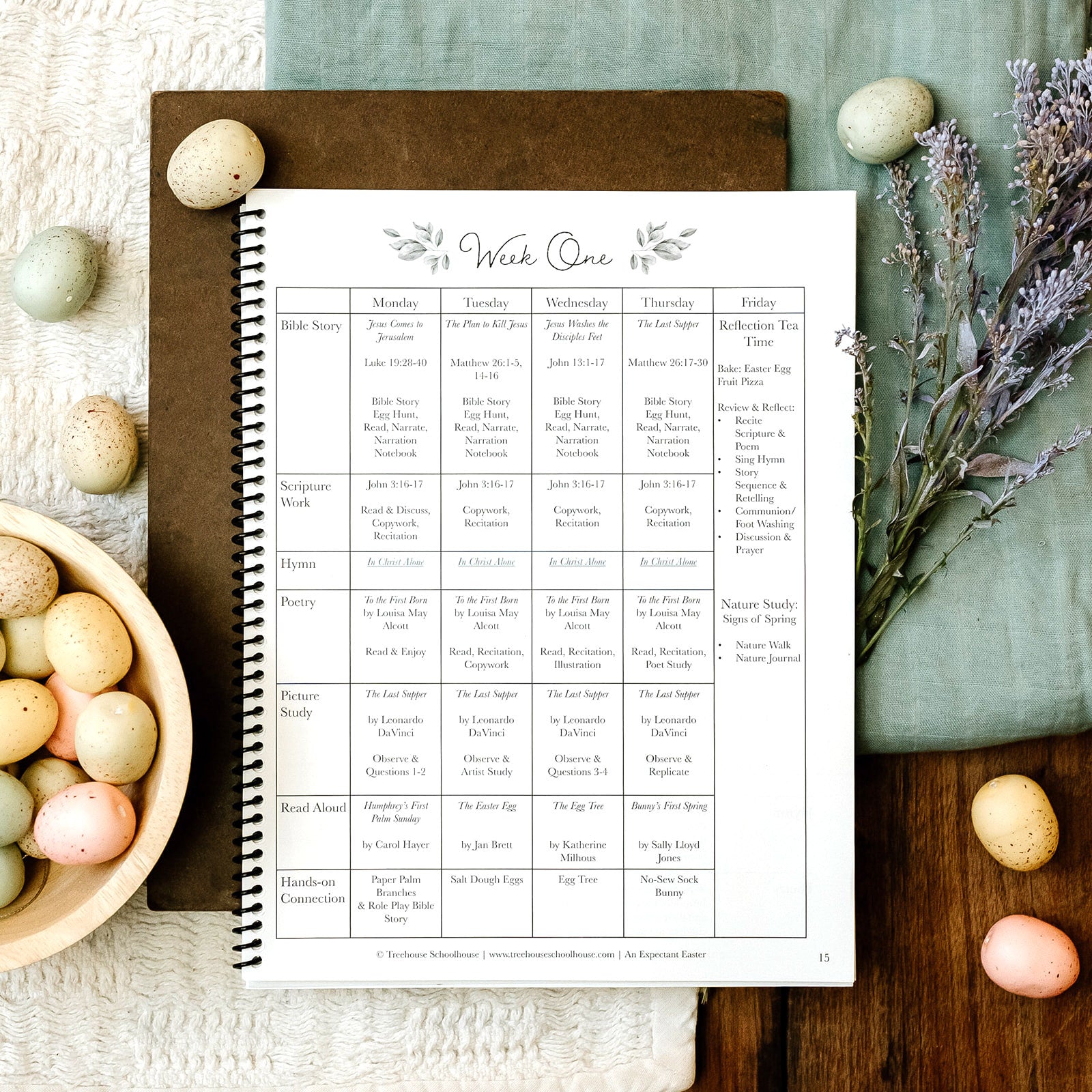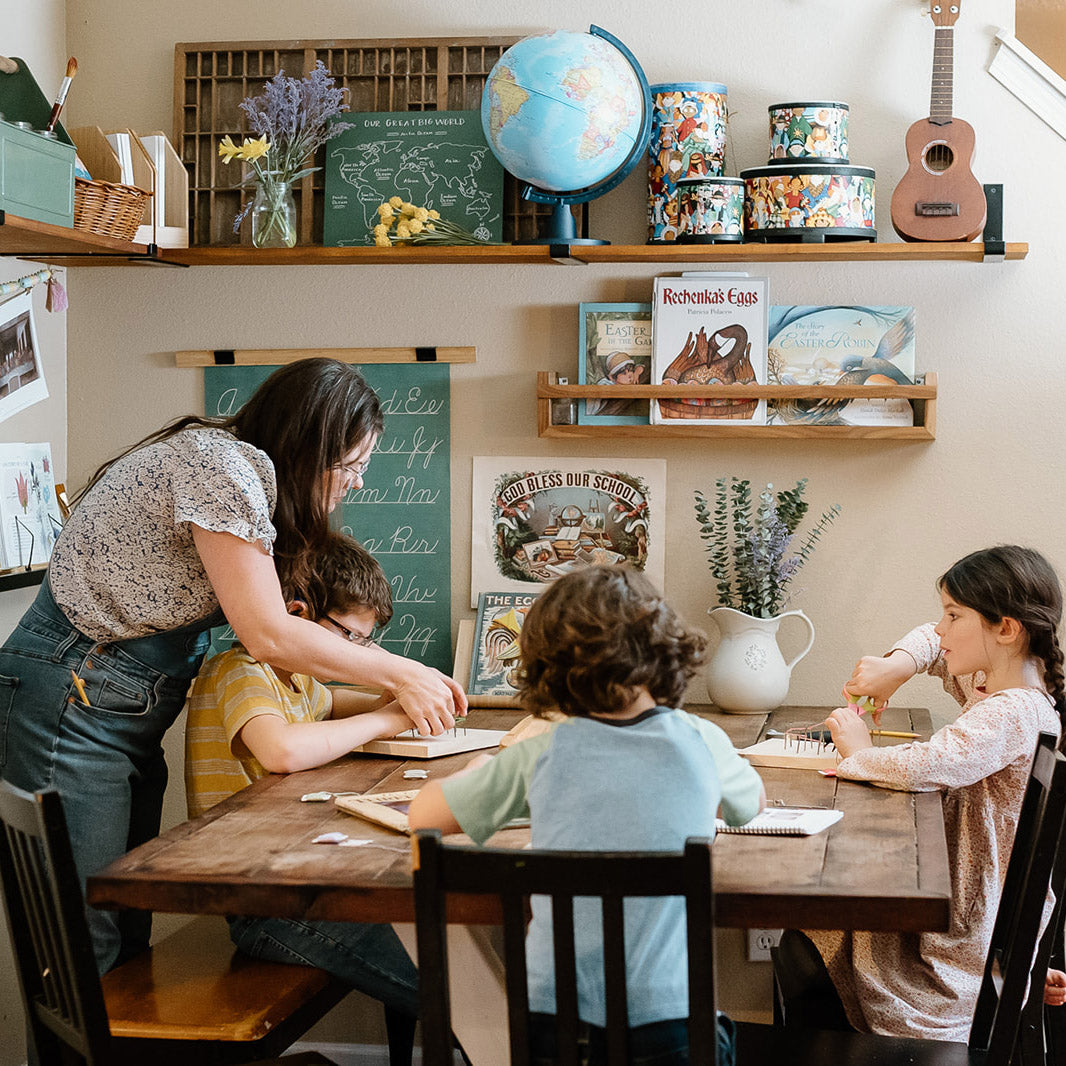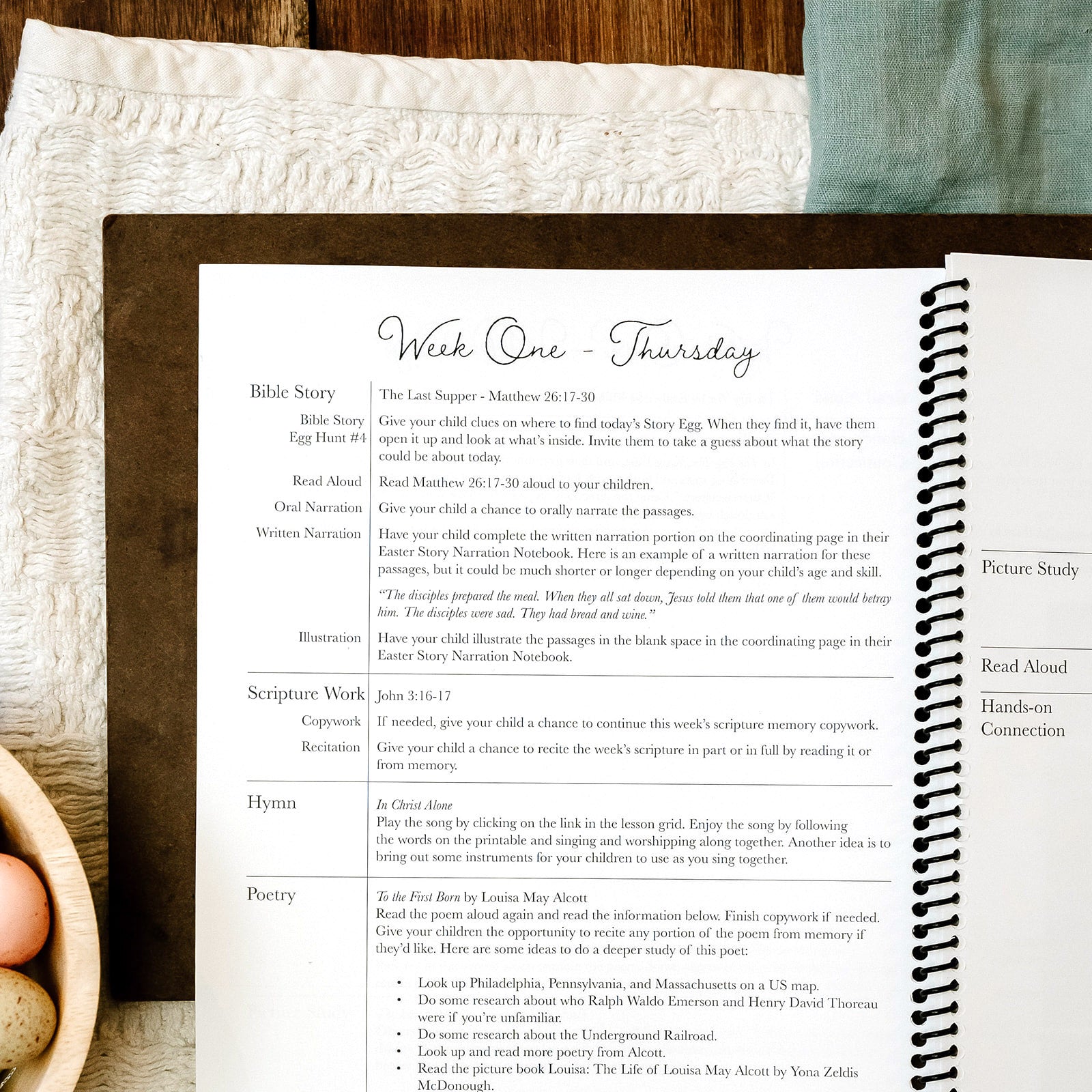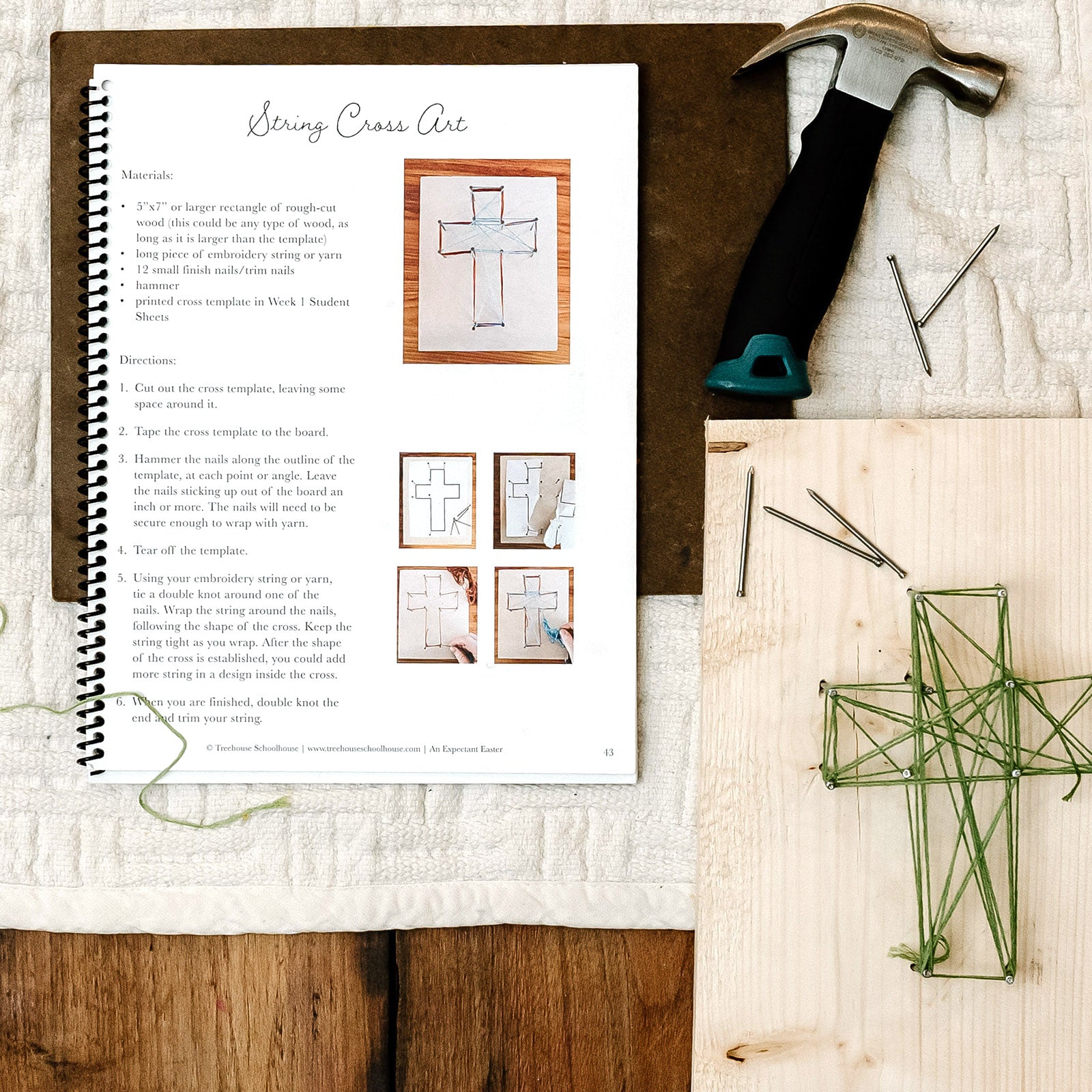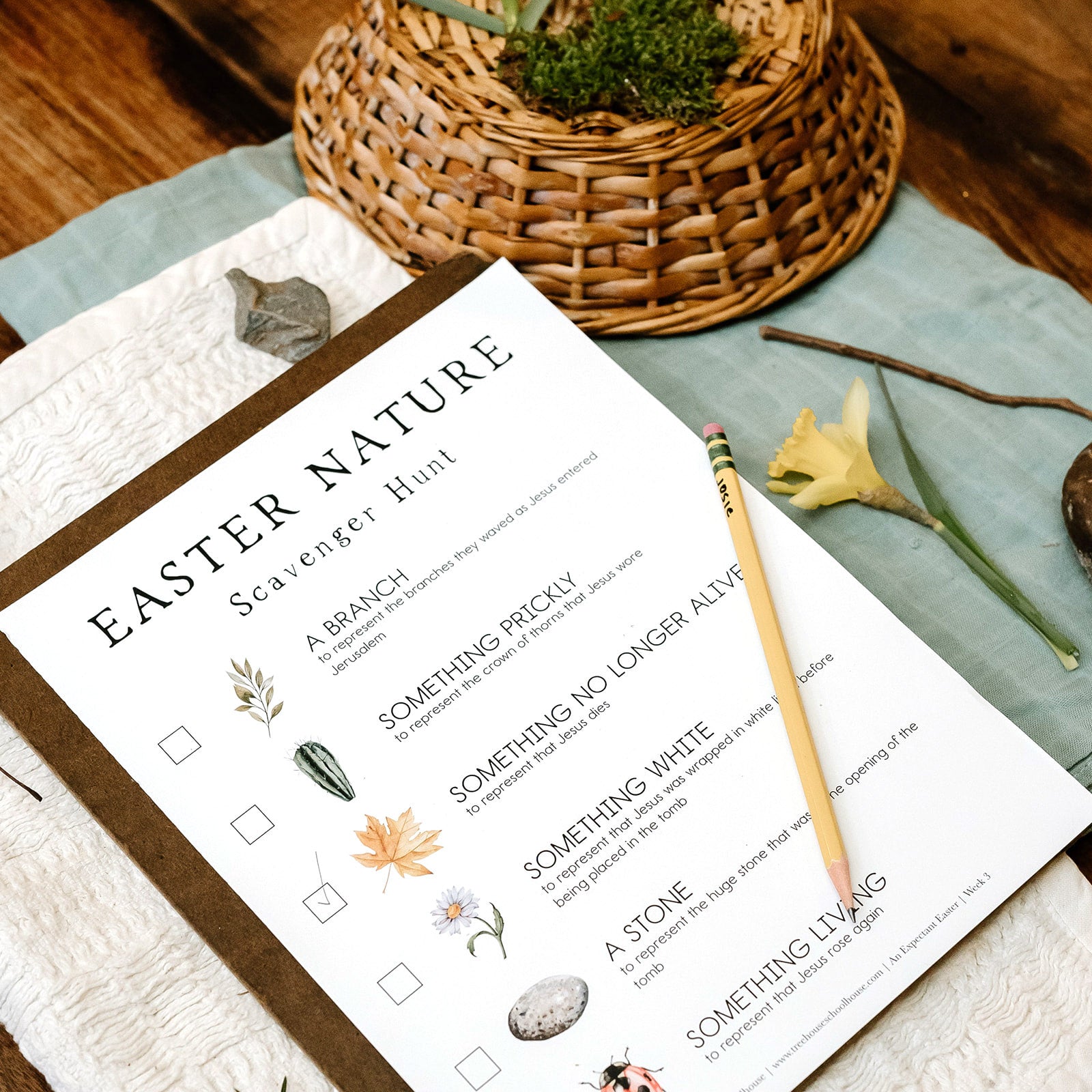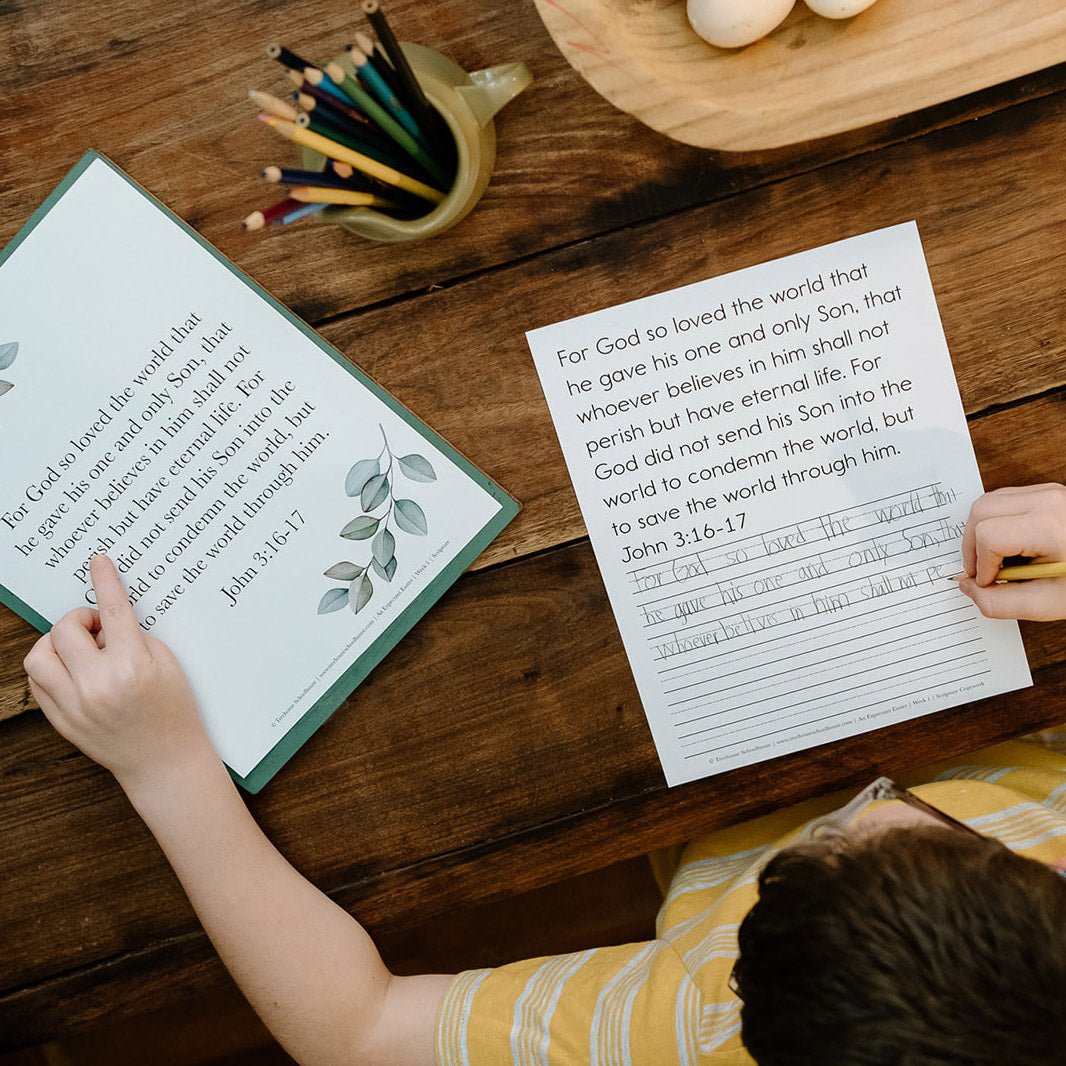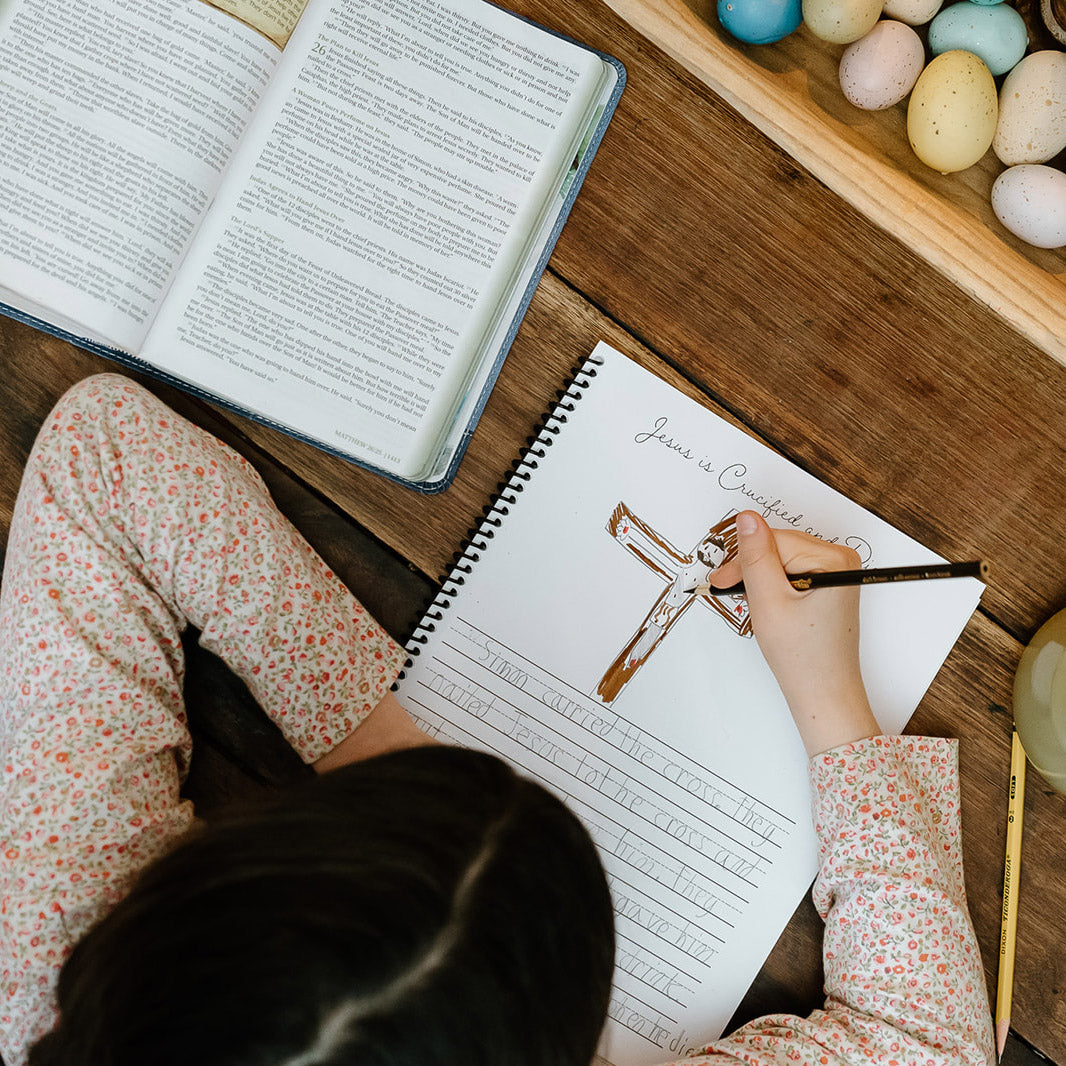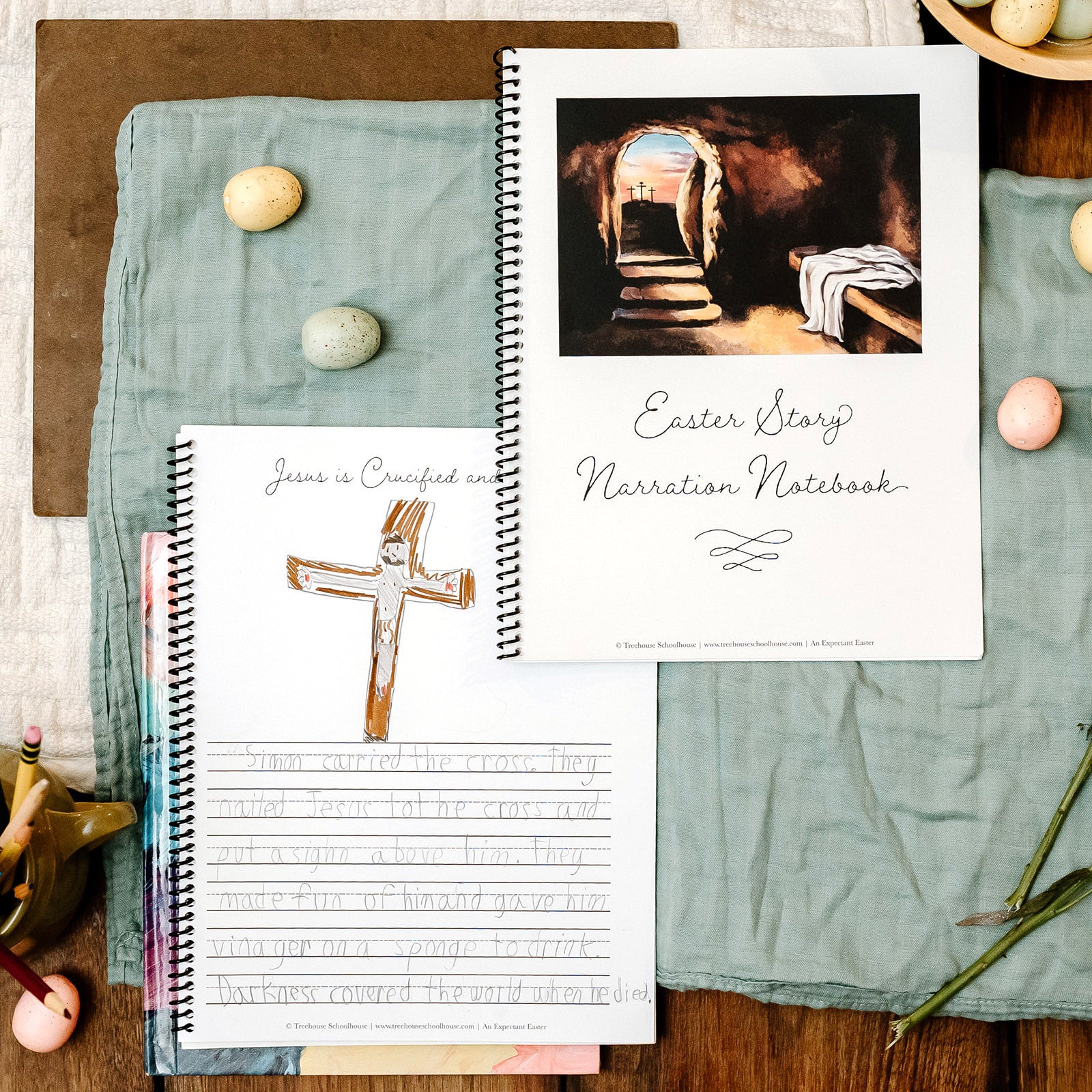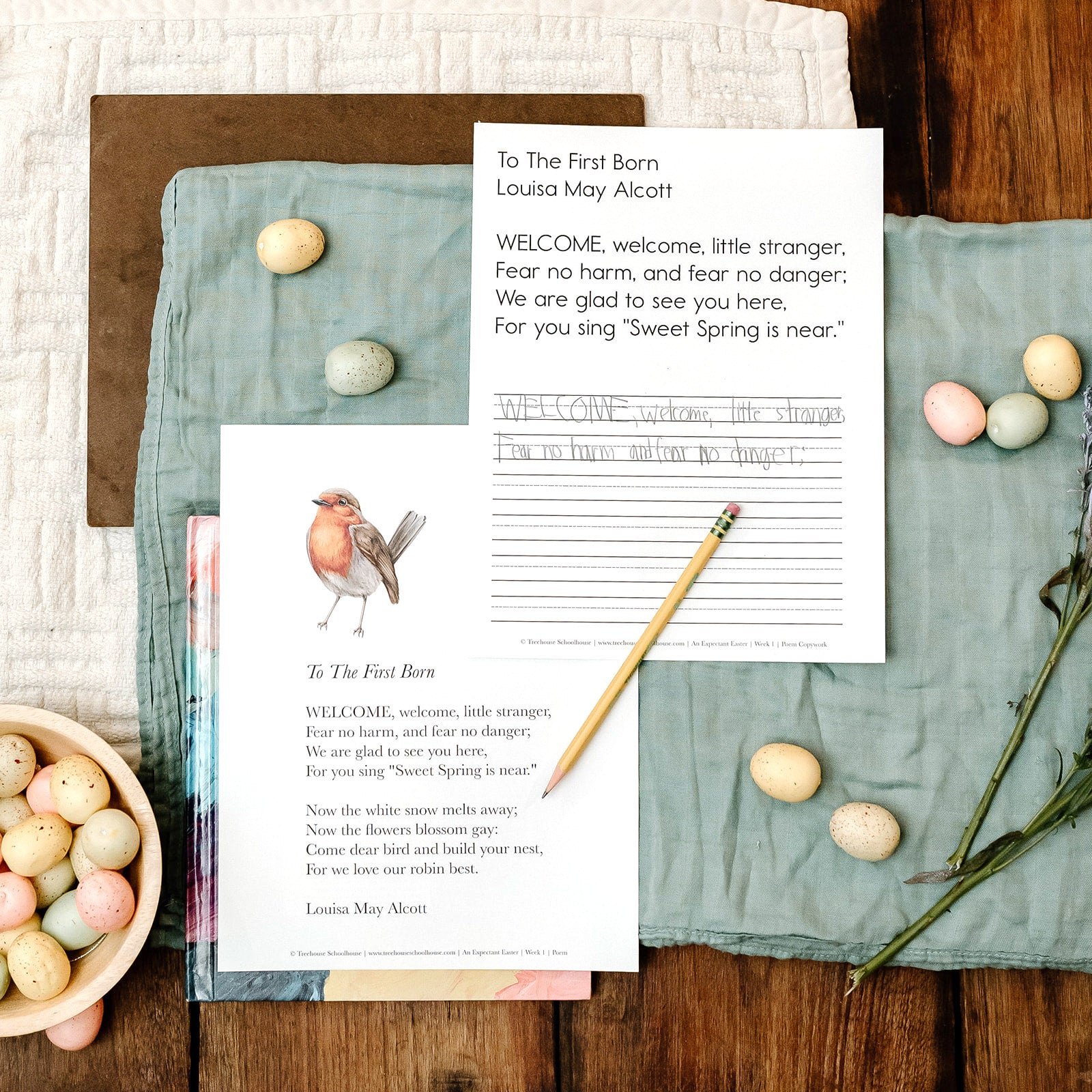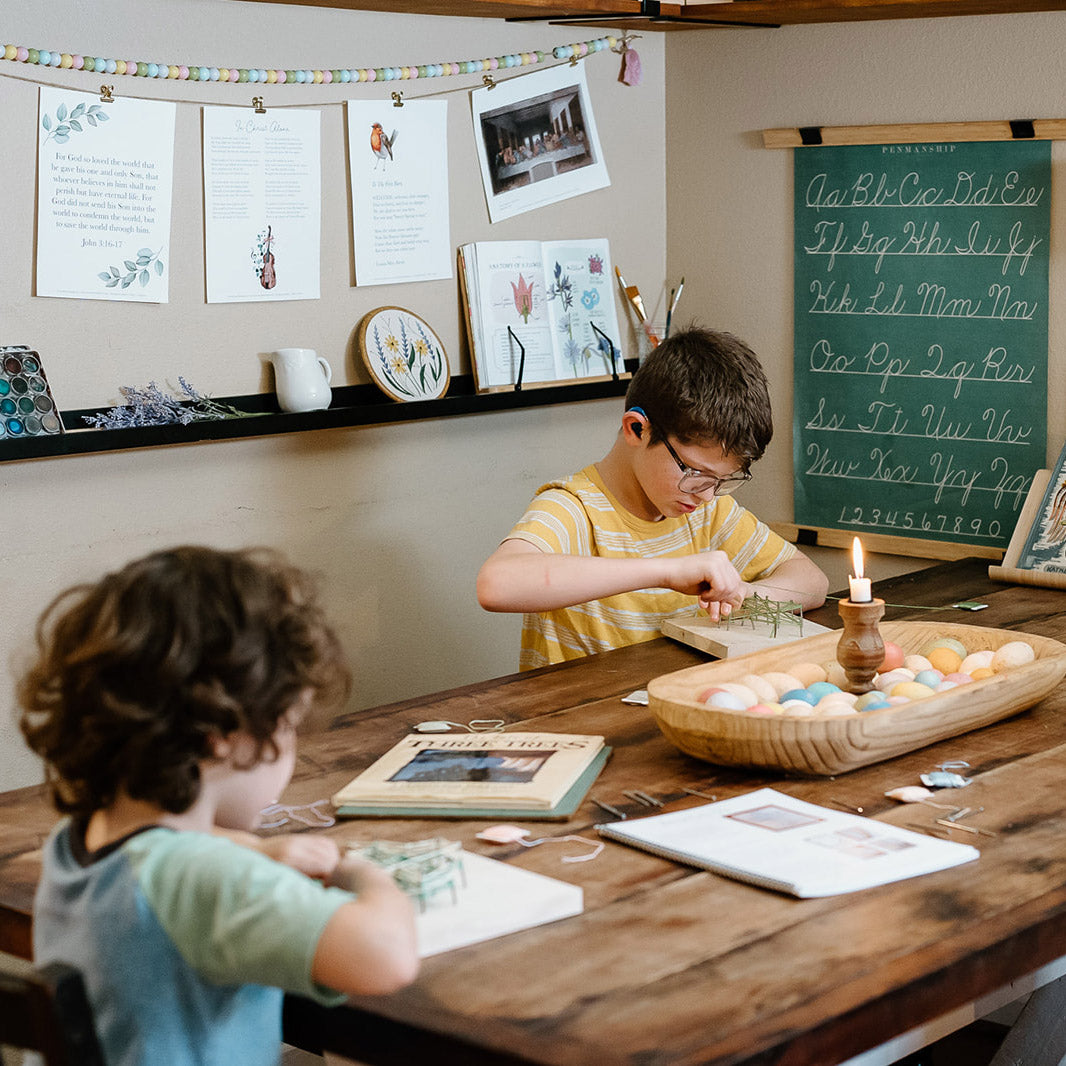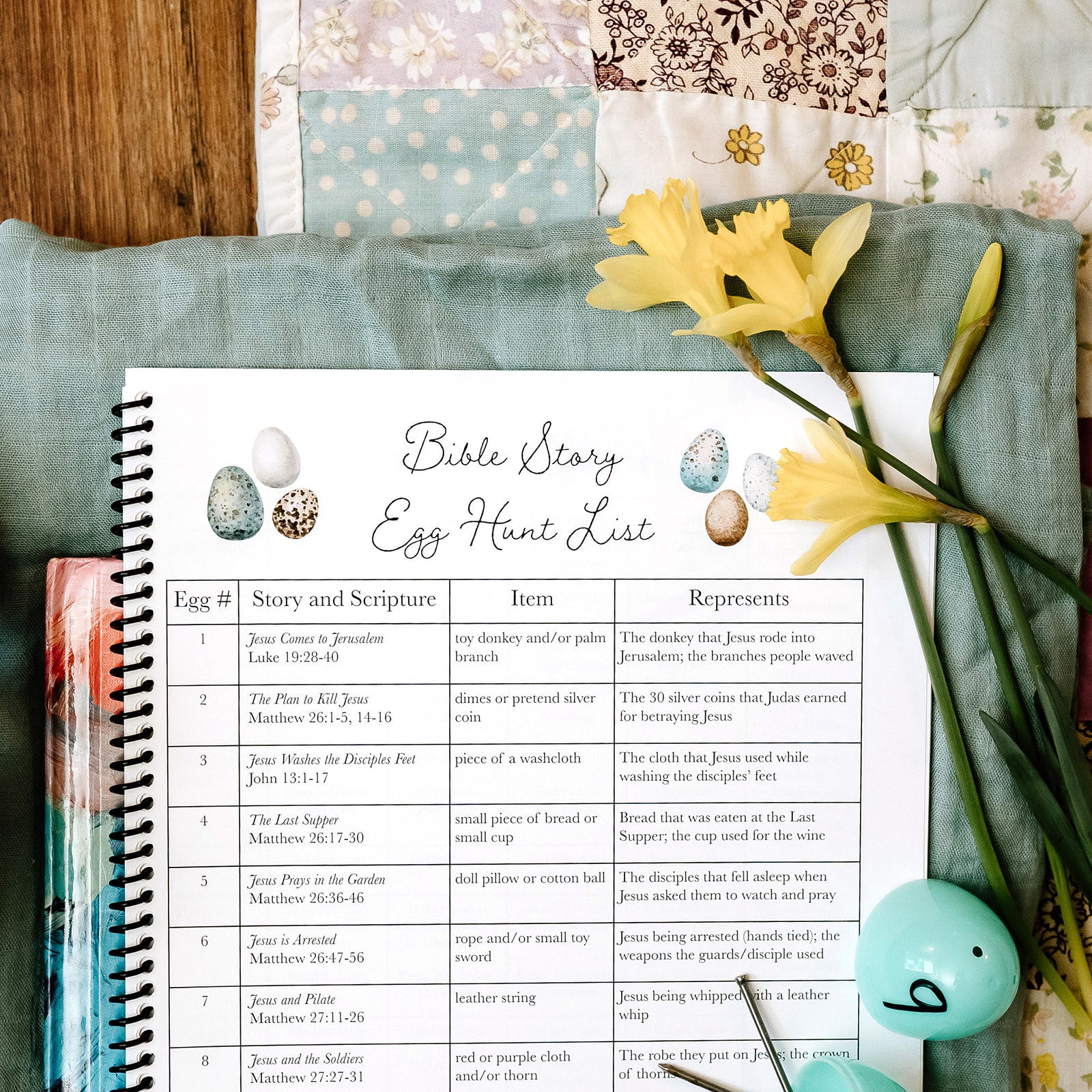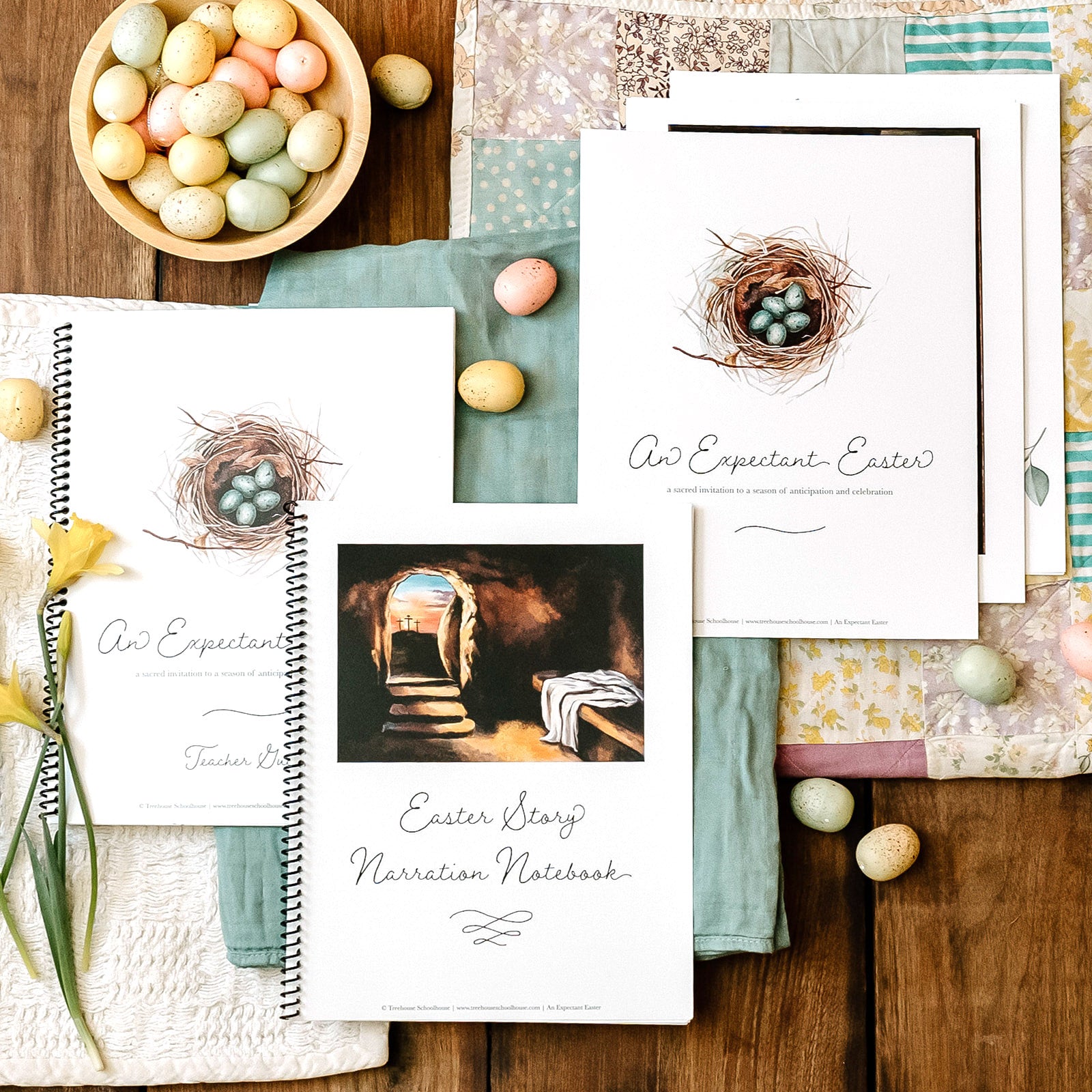 Features
Perfect for the whole family

Christ-centered connection

Hands-on and interactive

Simple and ready-to-use
This curriculum is designed to be used with the whole family at the same time. It was created for children in Kindergarten-5th grade, but it can easily be adapted for preschoolers and middle schoolers as well.
The foundation of your lesson time will include reading a passage of scripture to your children taking them through the story of Christ's death and resurrection.
This festive celebration reinforces the scriptures with simple handcrafts, delicious recipes, poetry and individual keepsake narration notebooks.
The weekly grid and daily lesson plans make it easy to open and go each day. Designed to require very little prep, the handcrafts and activities use supplies from around your house and the focus is on simple, beautiful connection.
"Easter is a time to celebrate the greatest story ever told! My desire is to mark my children's hearts with truth and traditions during the season leading up to Easter. I want those weeks to be memorable, fun, and most of all, draw them to their Savior. I designed An Expectant Easter for my family first, and now I'm so excited to share it with you."
– LYNDSEY, FOUNDER AND AUTHOR OF AN EXPECTANT EASTER
Related Blog Posts
Curriculum Overview: An Expectant Easter

In this blog post, I explain in more depth my heart behind An Expectant Easter and give a closer look inside the study.

read more

My Favorite Easter Picture Books to Read Aloud

Cozy, timeless, character-building books curated for a meaningful season full of connection. Find them at your local library, buy them on Amazon or use the read-alouds linked.

get the book list

How To Add a Holiday Unit Study Into Your Homeschool

This post shares how one family incorporates An Expectant Easter into their homeschool day to cover beauty subjects, language arts, crafts and recipes.

read more
Curriculum Walkthrough
In this in-depth video, I share my heart behind writing An Expectant Easter and give you a peek inside the full curriculum.
Watch Now