Treehouse Nature Study: Four Seasons Collection
Regular price

$180.00

Sale price

$149.00
A Year-Long Charlotte Mason and Waldorf-Inspired Seasonal Nature Study for the Whole Family

Treehouse Nature Study is a seasonal nature study curriculum designed with family-style learning in mind. It is a gentle guide meant to invite various ages to connect with each other and the world around them through living books, nature notebooking, hands-on projects, and beauty subjects such as poetry, picture study, and folk songs. 
From preschool through upper middle school, it appeals to every age and is easily used with multiple ages at the same time.
It would be a great fit for your preschool or kindergartener's core curriculum or your whole family's home education Morning Time and Nature Study. It also provides supplemental work for your children's language arts through poetry memorization, recitation, copywork, and notebooking.
Nature Study Themes

Each week of this 52-week guide is focused on a seasonal nature theme. The themes are:
Autumn

Apples
Birds of Prey
Autumn Equinox
Arachnids
Fungi
Deciduous Trees
Moon
Pumpkins and Corn
Stars
Woodland Creatures
Tracks and Scat
Rocks, Minerals, Fossils
Changing Leaves

Winter

Winter Birds

Wind
Winter Solstice
Coniferous Trees
Seasons
Mountains
Animals in Winter
Snow and Ice
Shadows
Nocturnal Animals
Maple Sugaring
Weather
Moss and Lichen

Spring

Seeds and Sprouts
Rainbows
Spring Equinox
Snails and Worms
Caterpillars, Moths, and Butterflies
Birds
Edible Gardening
Clouds and Rain
Bees
Snakes
Spring Flowers
Insects
Pond Life

Summer

Soil and Composting
The Sun
Summer Solstice
Bodies of Water
Marine Mammals
Sharks and Fish
Mollusks and Crustaceans
Seashells
Summer Flowers
Storms
Beetles
Reptiles
Landforms
Teacher's Guide

The Treehouse Nature Study Teacher's Guide is an overview with everything you need to guide your children through each day's nature study lesson. Each week of this 52-week study includes a weekly grid with daily lesson instructions making it easy to follow along. Each week has a themed folk song, hand rhyme, poem, and picture study. The daily lesson plans walk you through engaging with these beauty subjects in a new way each day. They also include links to Spotify and YouTube where you can listen to the folk songs together and learn the movements of the week's hand rhyme.

In addition to the beauty subjects, the teacher's guide includes step-by-step instructions for each week's Nature Connection Activities including recipes, experiments, and handcrafts. There are detailed material lists for each week making it easy to quickly prep for the week's activities.

At the core of Treehouse Nature Study is a focus on living books. Each week in the Teacher's Guide includes fiction, non-fiction, and reference books that correlate to the week's theme. The guide highlights relevant reference pages from The Handbook of Nature Study by Anna Botsford Comstock and the books in The Julia Rothman Collection. Your digital purchase of Treehouse Nature Study includes a Master Book List with over 600 books organized by season and theme.
Student Sheets

What sets Treehouse Nature Study apart from other studies are the beautiful, vintage illustrations and true-to-life diagrams. The student sheets include folk song lyrics, hand rhyme lyric and motion sheets, poetry and poetry copywork, and classic art picture study sheets. These full-color, high-resolution display sheets feature vintage botanical and nature illustrations including nature anatomy and life cycle posters. In addition, the student sheets offer hands-on activities like 3-part cards, scavenger hunts, investigation worksheets, and more.
Reference Materials

It is our desire to makeTreehouse Nature Study as "open and go" as possible. In addition to the Master Book List, your digital purchase also includes mini-biographies of each artist and poet organized by week. The introduction of the Teacher's Guide includes detailed instructions on how to tailor the study to different age groups so you can easily use it with the whole family. In addition, the introduction includes a Picture Study Guide and Nature Study Notebooking Guide to teach you how to guide your children through these activities that may be new to your family.
Digital Download Details

This file is a digital download and will be sent to the email address you use to checkout. The curriculum is a compressed .zip file that contains folders for each season with the Teacher Guide, Student Sheets organized by week, and Reference Materials. For best quality print results, I recommend you print using Adobe Acrobat Reader, a free application.
Hard Copy Details

This hard copy curriculum will be professionally printed on a commercial-grade printing press on sturdy 70 lb. weight matte paper. The hard copy includes:

4 Teacher Guides (one for each season), spiral-bound with a glossy cardstock cover.
4 sets of Student Sheets (one for each season), printed single-sided on heavy-weight paper. I recommend you purchase additional Student Sheets for each additional student in your family.

This will guarantee your artwork and display pieces are of the highest quality and can be used for many years. All hard copies will ship in 3-5 business days. You will also receive your digital files right away.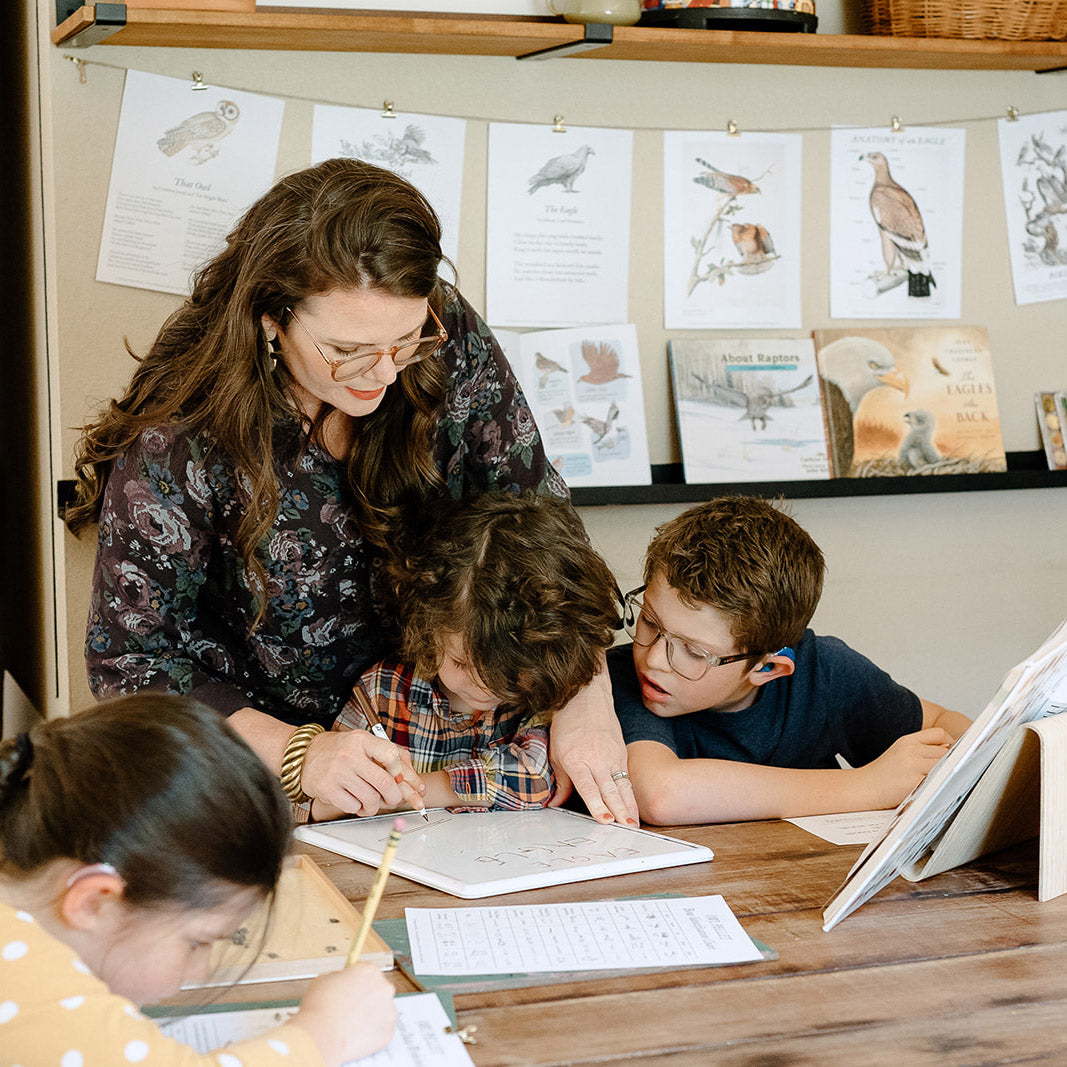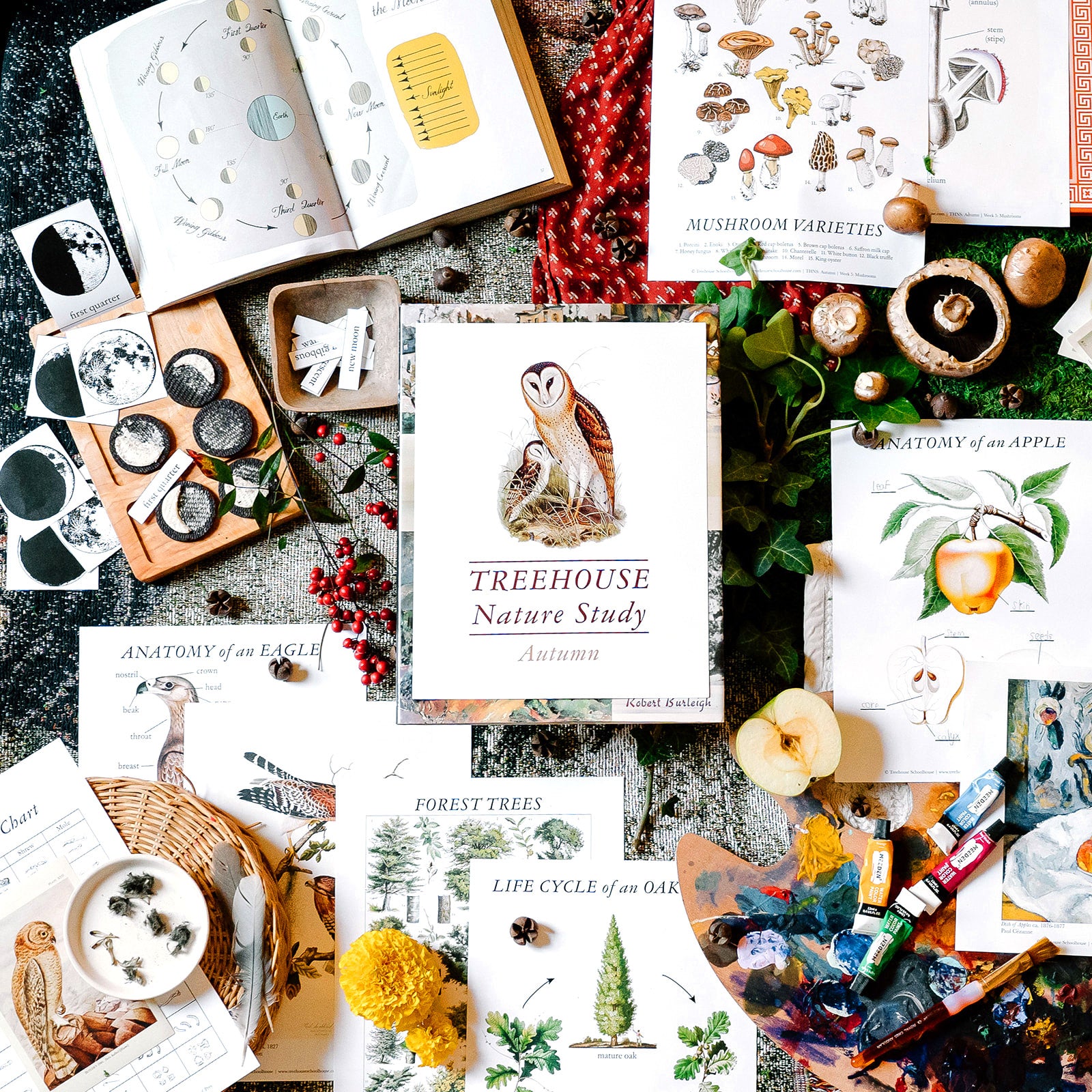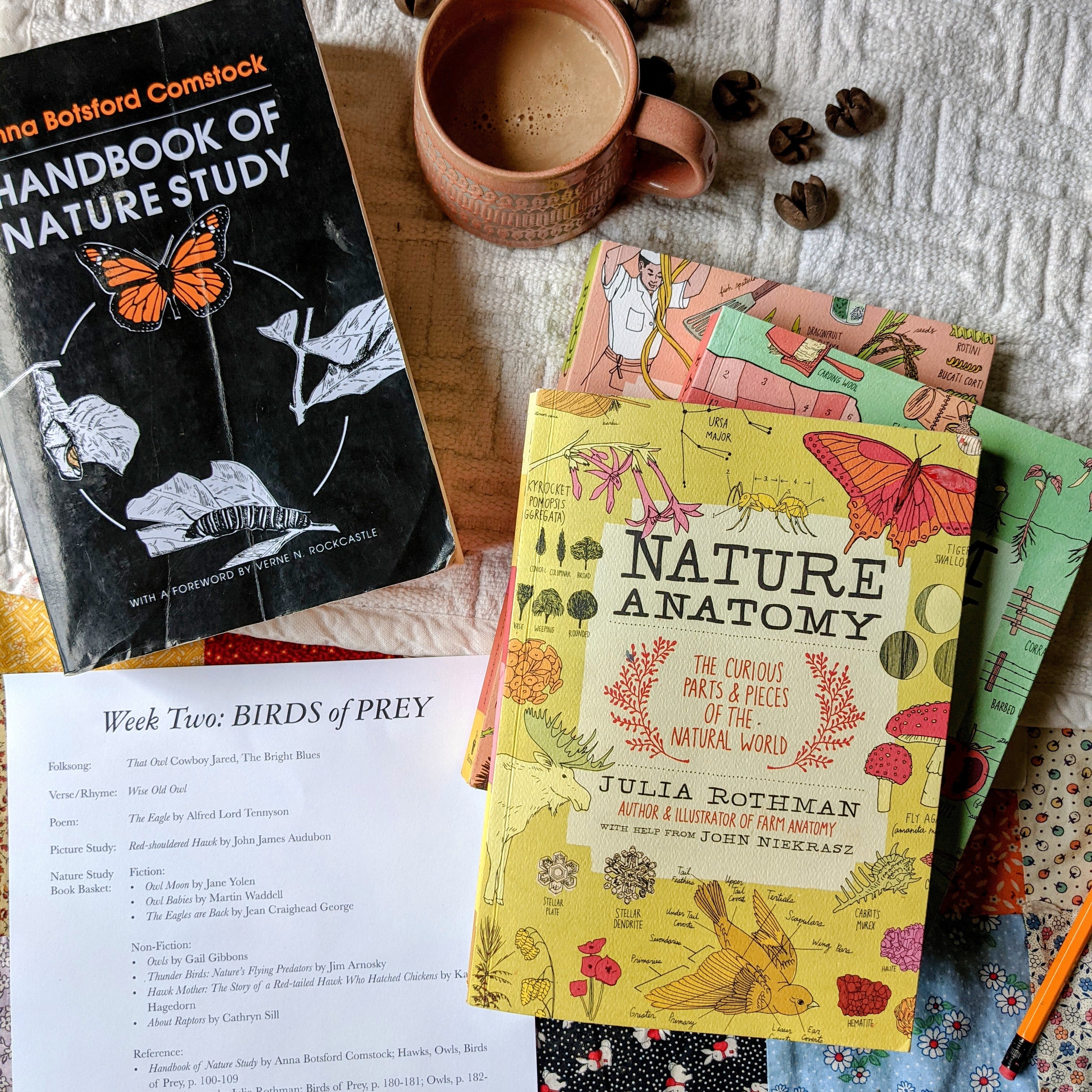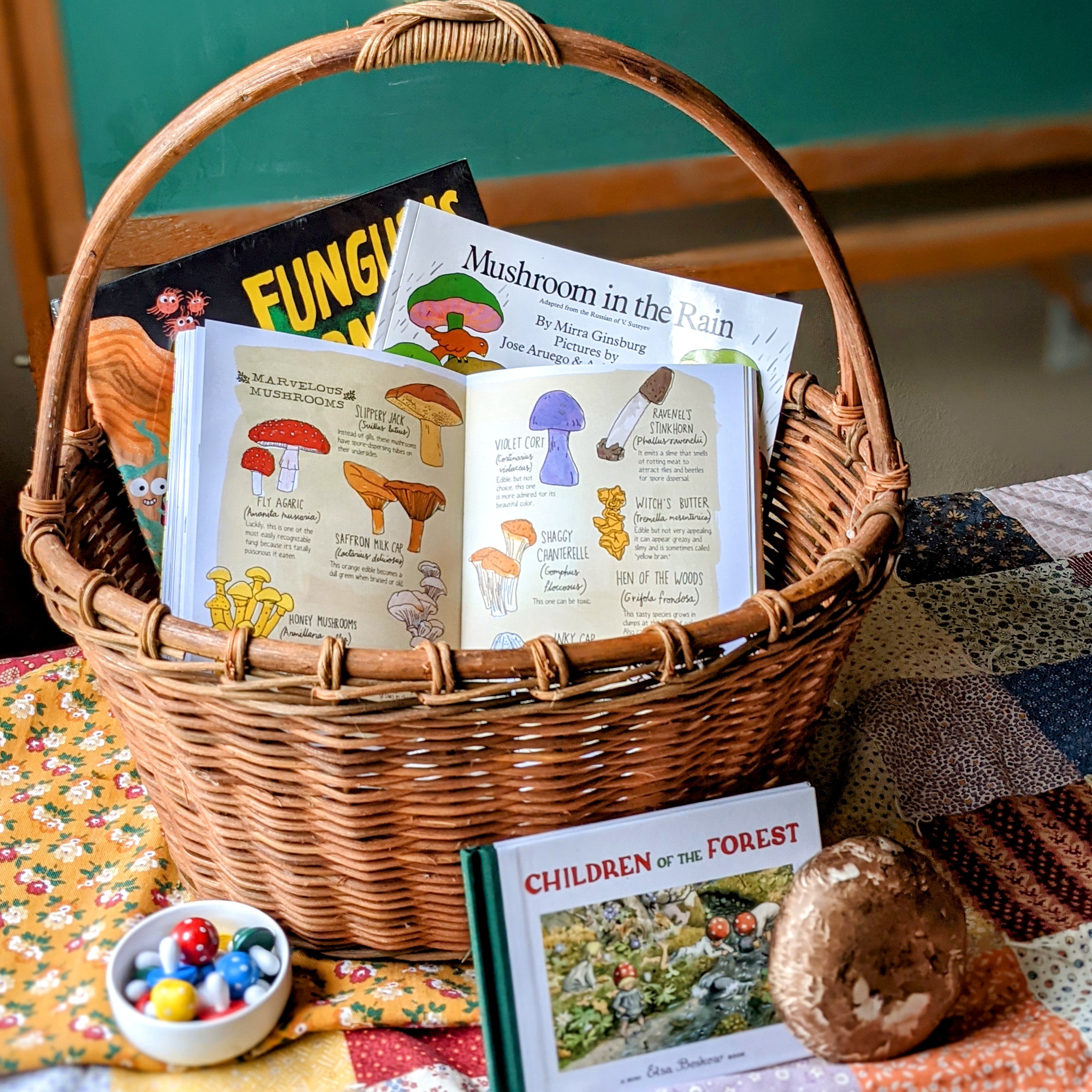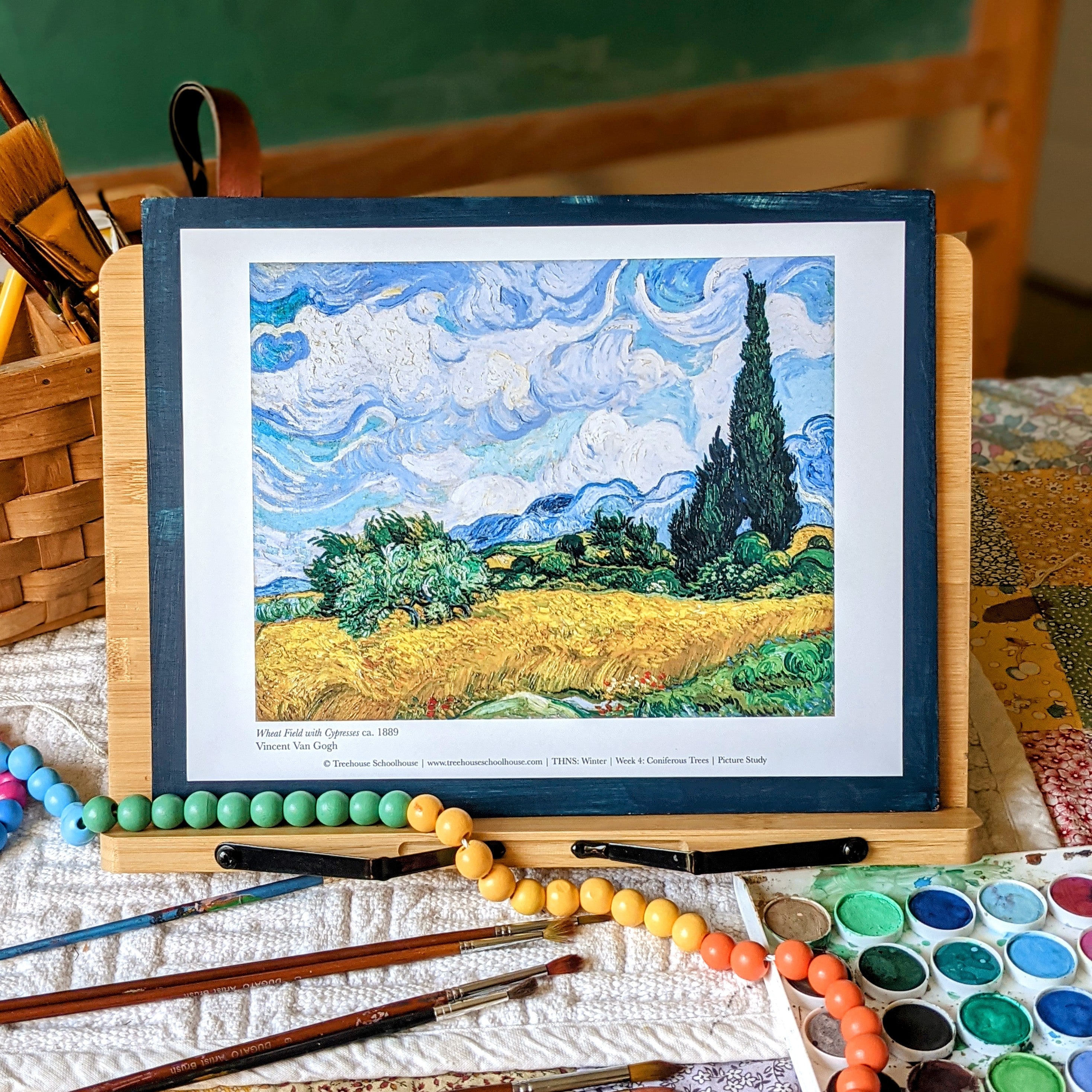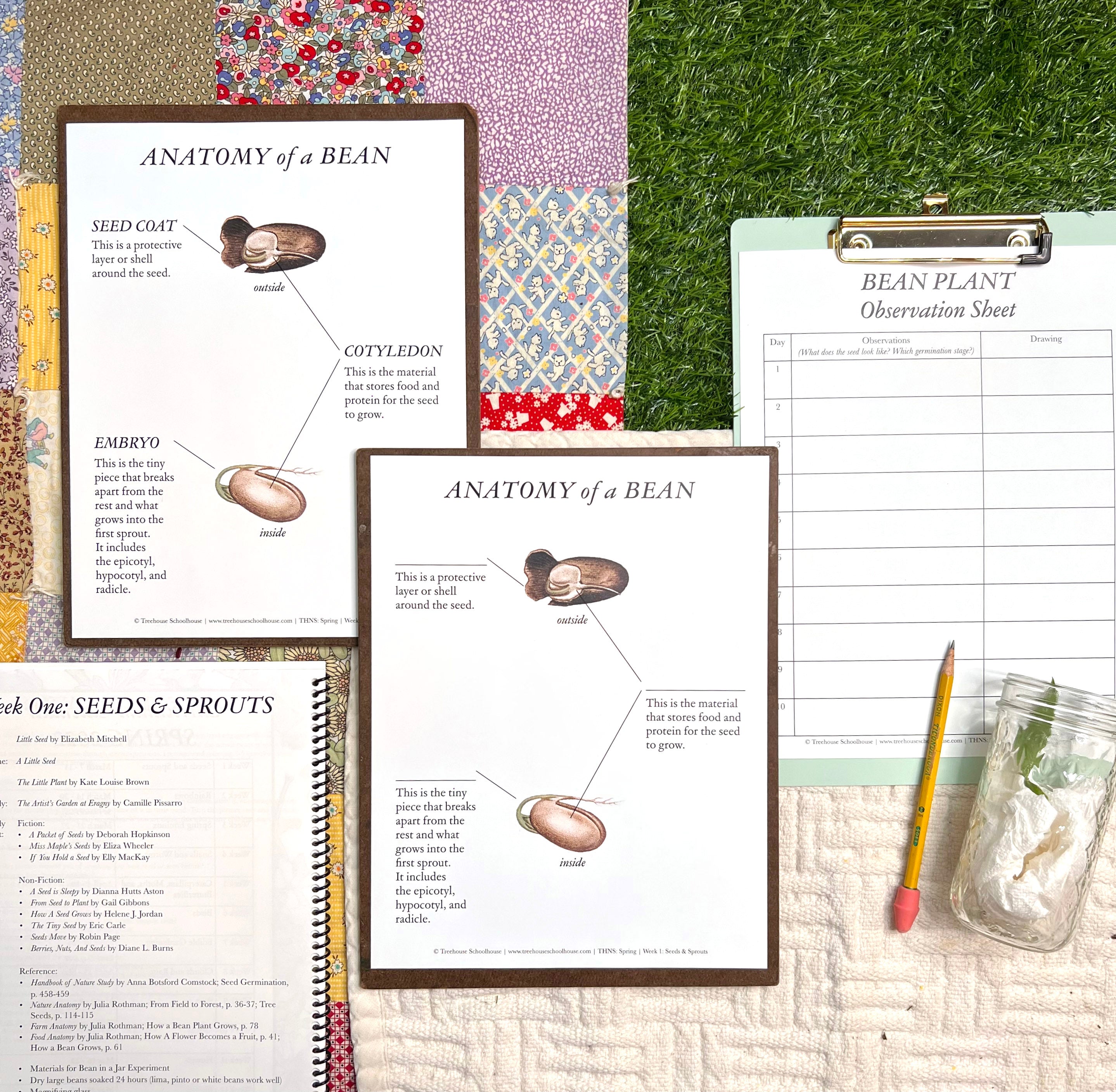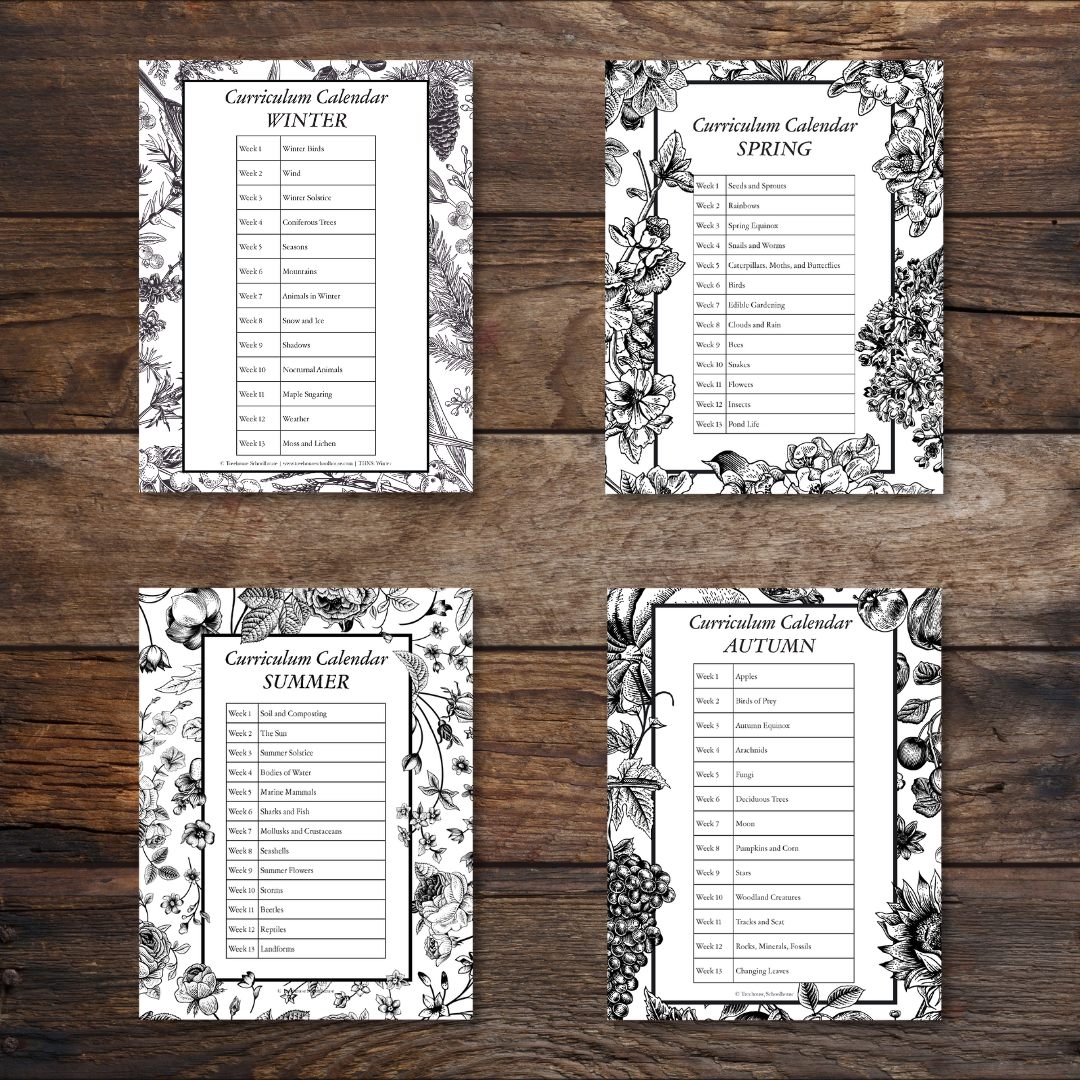 Features
Family Style Learning

Beauty and Goodness

Living Books

Hands-On Learning
From preschool through upper middle school, it appeals to every age and is easily used with multiple ages at the same time.
Introduce children to the beauty around them and incorporate beauty subjects such as poetry, art study and music.
Enjoy an extensive booklist of picture books, non-fiction titles, and relevant reference selections from the most popular books for nature study in home education.
Instead of simply studying nature, immerse your children in it with activities like foraging for mushrooms, nature walks, animal track identification, notebooking and more.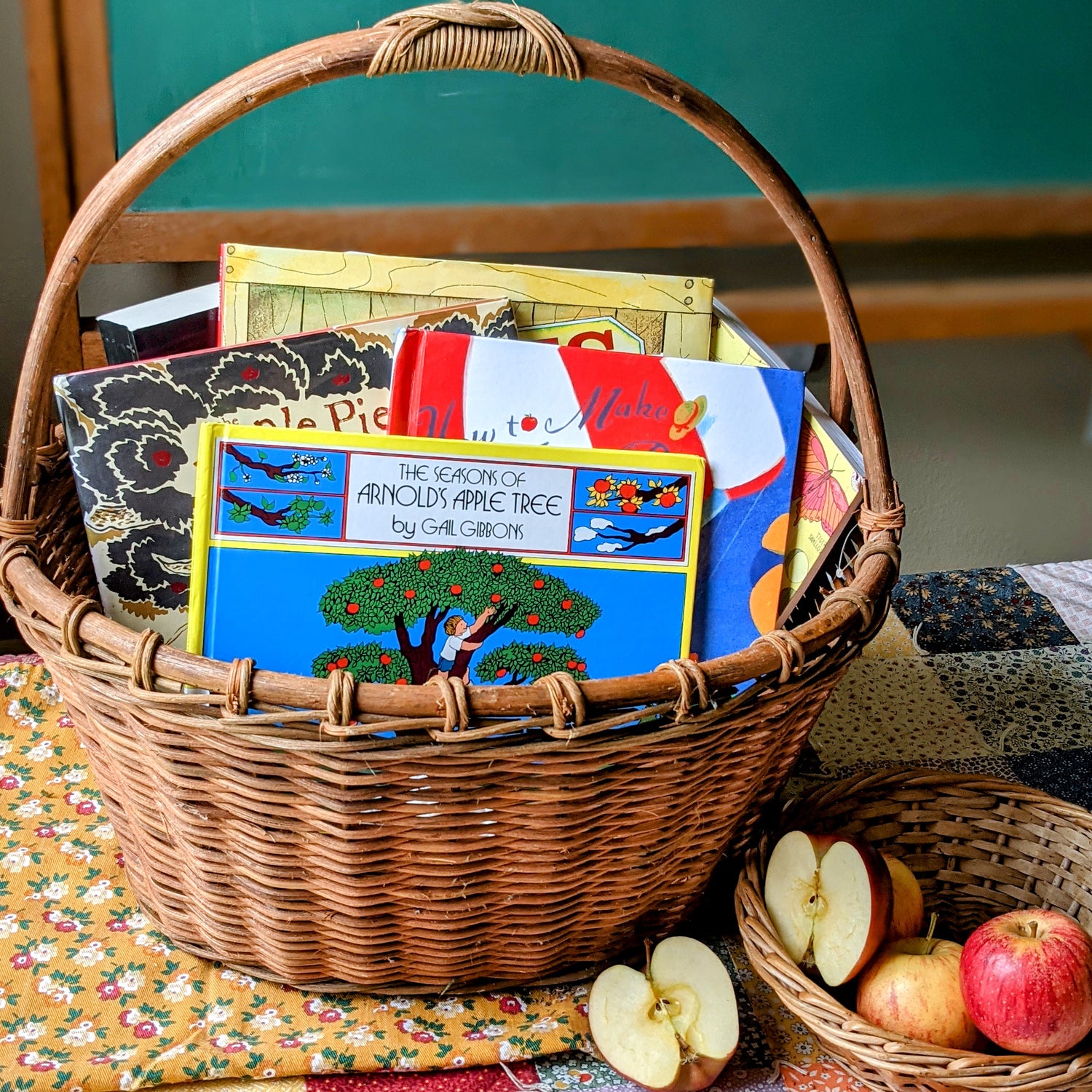 "Early in our home education I went on a search for a gentle guide to take our family on an educational journey through the seasons. I wanted something that was simple and beautiful and that introduced my children to art, poetry, living books, and nature in an organic way. I couldn't find what I had dreamed up in my head, so instead I developed it. My hope is that Treehouse Nature Study is a tool to truly awaken delight and wonder in your home education."
– LYNDSEY, FOUNDER AND AUTHOR OF TREEHOUSE NATURE STUDY
Try a free week of Treehouse Nature Study
Get a free week fromTreehouse Nature Study when you join our Treehouse Schoolhouse email community. This free download comes from Spring Week Five: Caterpillars, Moths, and Butterflies.
Download Now
Testimonials
We absolutely love Treehouse Nature Study. Everything has been planned out for you to easily pull out and use each day. There is a rhythm to each day and flow throughout the week. Our young preschool aged children especially love the hand rhymes, listening to the music, and learning hands on with some of the suggested activities.

Ana
The hand rhymes & vintage photo studies are a family favorite each week. So excited to continue to use these studies each year & dig deeper, definitely worth the purchase!

Brittany
Our lessons are the best part of our day and it's added so much fun to our weekly routine. My kids love the poems and folk songs, I love artist/art study, the illustrations are gorgeous that my children are so drawn to learn more about each subject. I highly recommend this material to anyone who is looking for a beautiful curriculum to add some luster to your homeschool routine!

Destinie
Thank you so much Lyndsey for bringing some much needed beauty, peace, and togetherness to our homeschool! This curriculum will serve us for years to come and brings just the right amount of beauty to our day.

Lindsay
Absolutely love this curriculum. Having home educated for almost 10 years I've been through my fair share of curriculum. This, hands down, is my favourite. It's simple, inspiring and beautiful.

Charlene
Related Blog Posts
Overview of Treehouse Nature Study

Read more about my heart behind this curriculum and learn more about the essential elements included each week.

read more

Using Treehouse Nature Study for Pre-K to Kindergarten

Treehouse Nature Study was designed with the whole family in mind. This blog post will give you my recommendations for using with children ages 3-6.

read more

How to Use Treehouse Nature Study with Multiple Ages

This guest post shares how one family uses Treehouse Nature Study with their children ages 4-11.

read more