A Connected Christmas: Around the World - Small Group License
Regular price

Sale price

$90.00
If you intend to use this curriculum with a small group, you will need to purchase a Small Group License. You may select a group size from the drop-down menu above. This listing is for the small group license. If you wish to purchase an individual copy of the curriculum, visit this page.
A C

onne

c

ted

C

hristm

a

s

: A

round the

W

orld invites your family on a journey around the world through the Bible Christmas story.
Celebrate Christ's birth and connect hearts to the truth of Jesus while experiencing how Christmas is celebrated across the globe through A Connected Christmas: Around the World. In this 3-week curriculum, your children will travel the world as you explore the Christmas season in different languages, climates, and cultures. Experience the unique traditions of different countries through festive carols, stories, poetry, fine art, baking, and handcrafts.
Digital Download Details

This file is a digital download and will be sent to the email address you use to checkout. The study is a compressed .zip file that contains folders with the full curriculum and Narration Notebook.
Hard Copy Details

This hard copy curriculum is professionally printed in the USA on a commercial-grade printing press on sturdy 70 lb. weight matte paper. All hard copies ship in 2-3 business days. The hard copy includes:

- 1 Bound Curriculum, 70 pages, spiral-bound with a glossy cardstock cover.

- 1 Narration Notebook, 17 pages, spiral-bound with a glossy cardstock cover.

This will guarantee your materials are of the highest quality and can be used for many years. All hard copy purchases also include the digital files sent to the email address you use to check out.
printing guide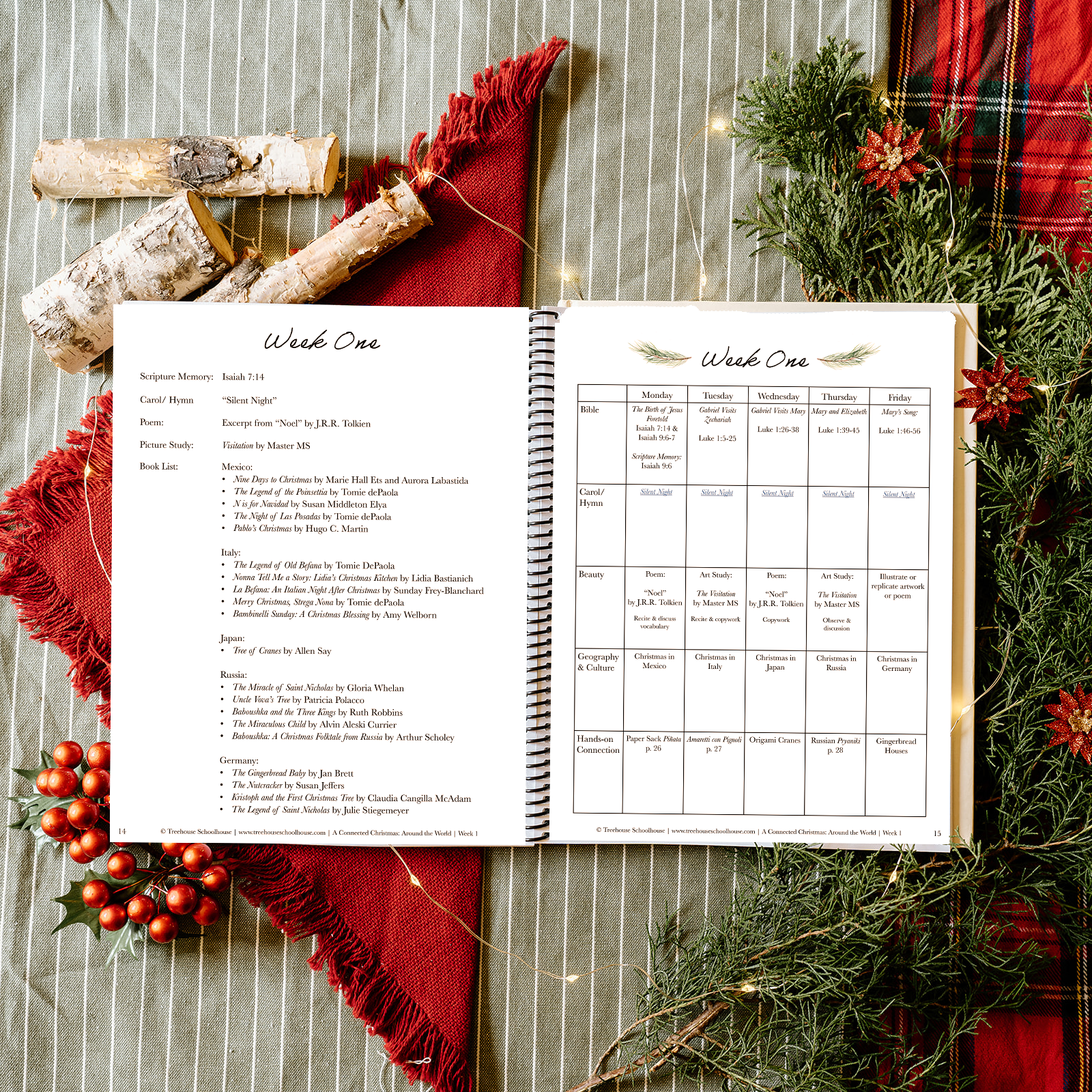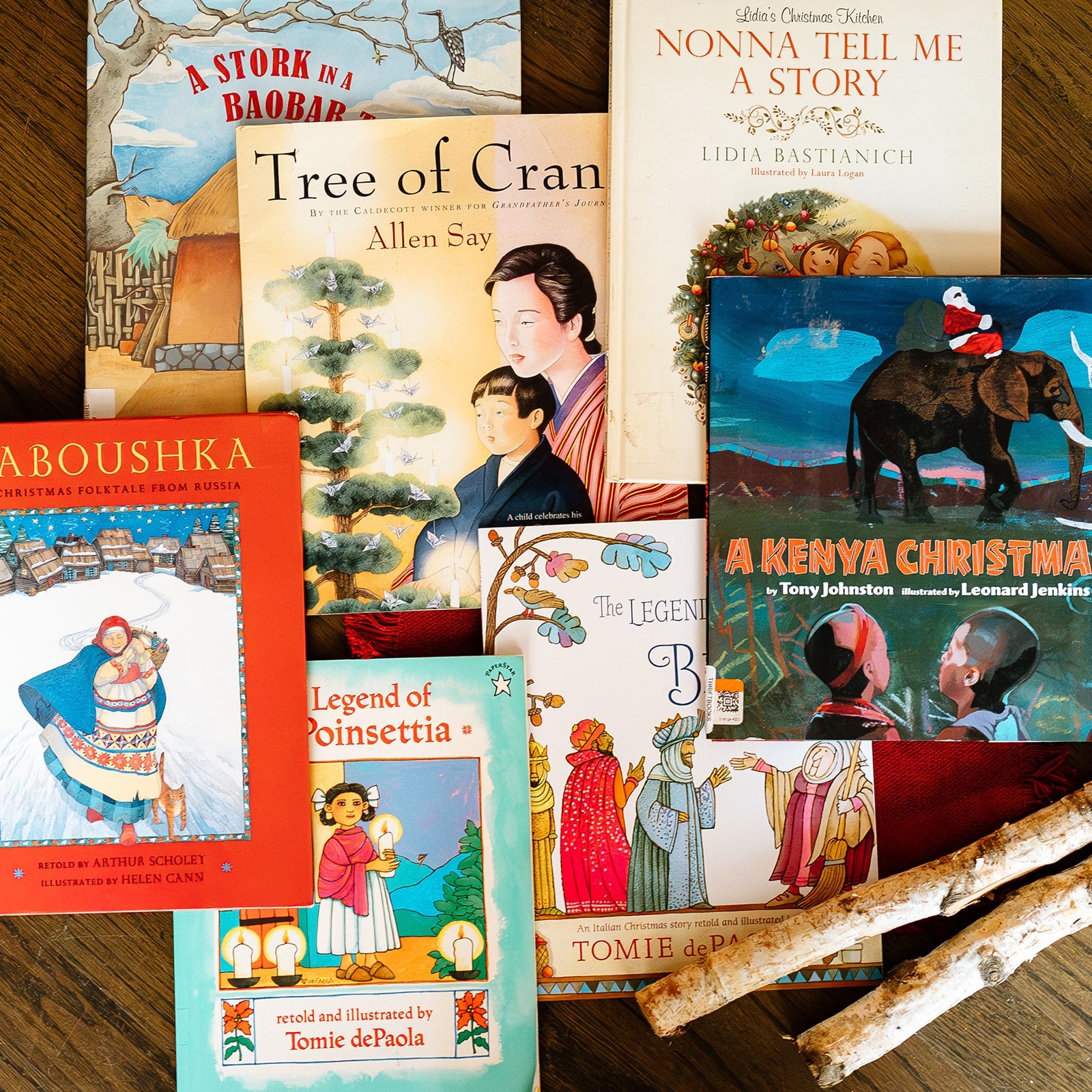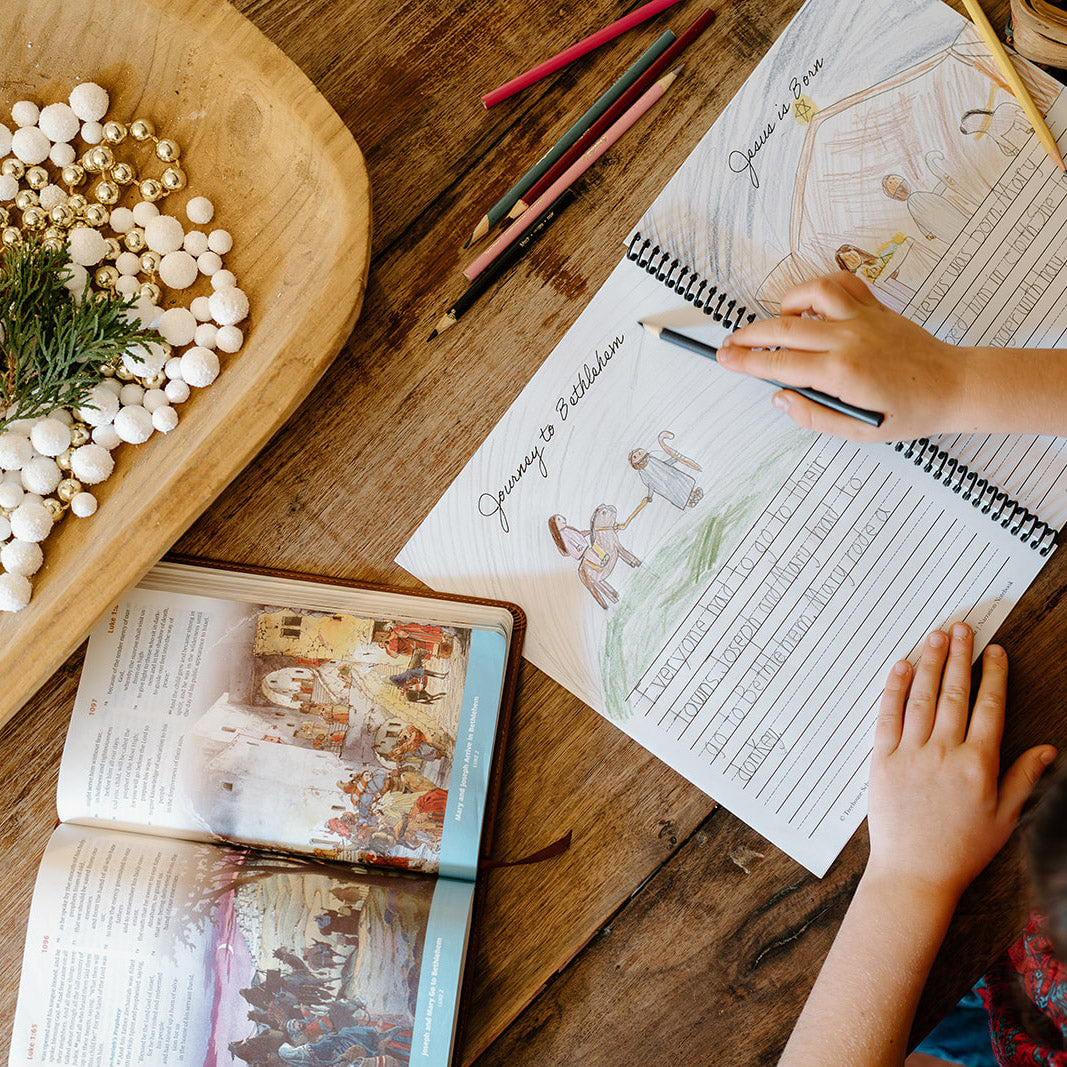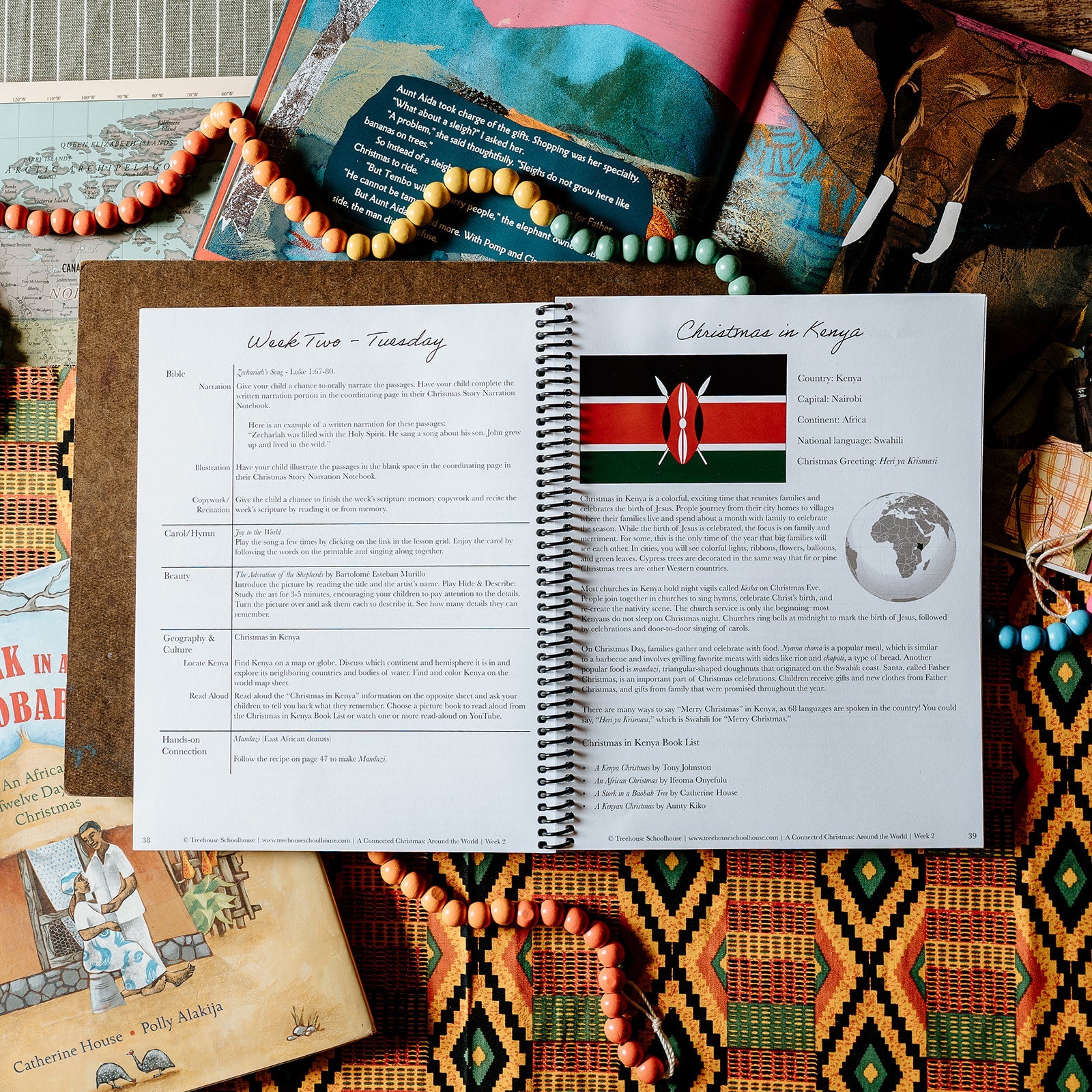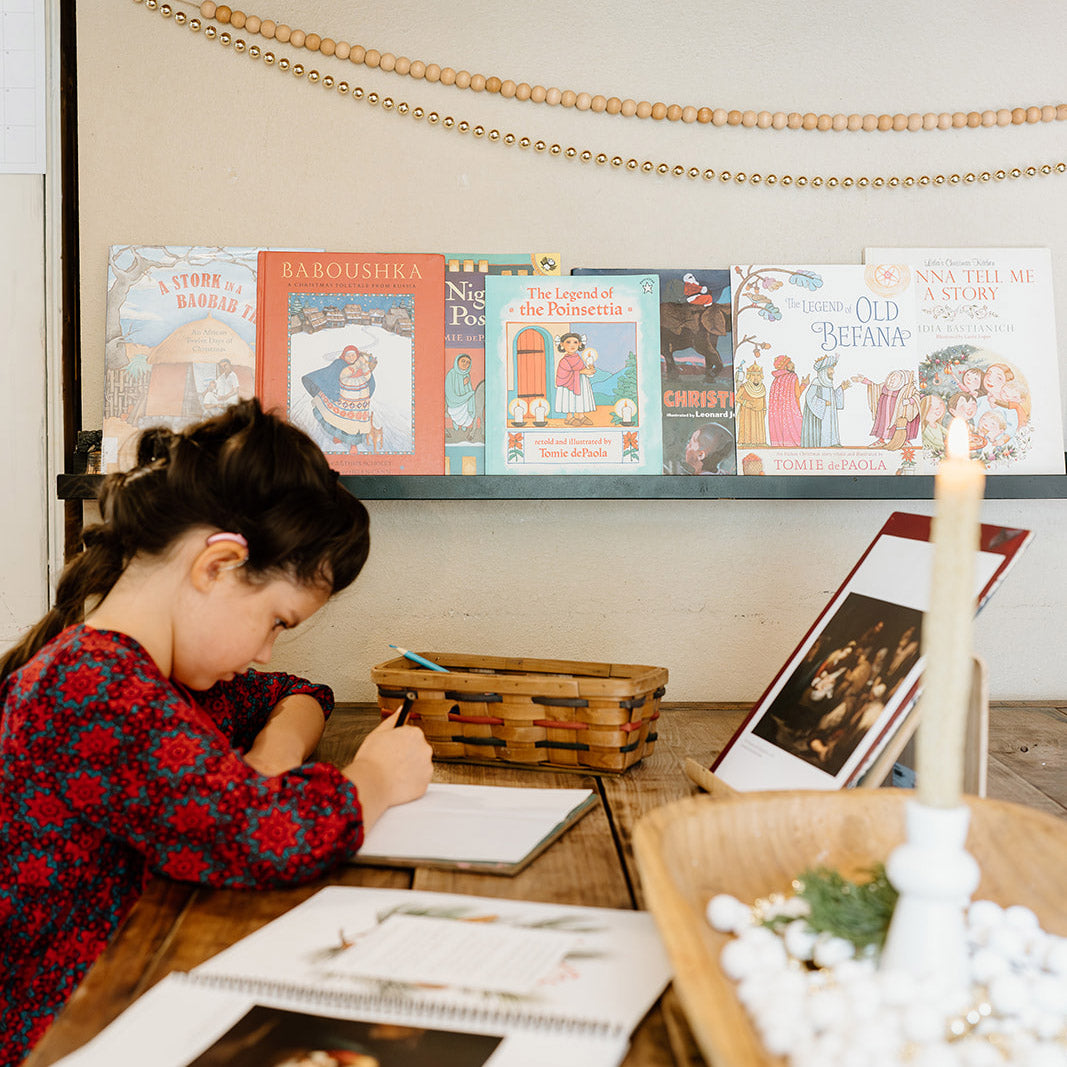 Features
Perfect for the whole family

Simple and ready-to-use

Hands-on and interactive

Christ-centered celebration
From preschool to middle school, there are variations and activities for all ages to celebrate together.
Daily lesson plans are provided along with summaries of each country making the study easy to open and go. Designed to require very little prep, many of the handcrafts and activities use supplies from around your house.
This festive celebration reinforces the scriptures with simple handcrafts, delicious recipes, poetry and individual keepsake narration notebooks.
At the core of A Connected Christmas: Around the World is the Christmas Story Narration Notebook. Your family will walk through the Biblical Christmas story each day as your child narrates and illustrates each passage. At the end, you'll have a 17-page keepsake.
"As a world traveler myself, I want to give my children the gift of cultural exposure and experiences. I want them to appreciate the wonder in the traditions, cuisines, and lifestyles of the beautiful people around the world. Christmas is such a fun time to lean into this, so with that passion, A Connected Christmas: Around the World was designed."
– LYNDSEY, FOUNDER AND AUTHOR OF A CONNECTED CHRISTMAS: AROUND THE WORLD
Picture Study
Each week you'll engage with a classic art piece through discussion and replication.
Poetry
Your child will practice recitation, copywork, and language arts through the beauty of poetry.
Hymns
Worship in song each day through a classic hymn. Lyric sheets and links to Spotify are included for your convenience.
Scripture Memory
Read, discuss, and memorize Scripture each day as your children learn the true meaning of Christmas.
Explore Christmas Traditions Around the World
Your children will learn about 15 different countries around the world while they experience the traditions through crafts, recipes, and hands-on activities.
Each hard copy comes with one Narration Notebook. You may also purchase additional notebooks for each child in your family.
A Connected Christmas Narration Notebook
Regular price

Sale price

$9.00
Testimonials about A Connected Christmas
My seven year old daughter and I were sad to finish this amazing curriculum. What a beautiful month of connection, beautiful readings and art, and learning about our Lord and Savior. I cannot express how grateful I am and look forward to doing it again next Christmas!

Natalie
I can't say enough good things about this curriculum. It was just what I was hoping for and looking forward to with being new to homeschooling. A slower pace and a focus on Jesus. My 6 year old discovered a love of art, my 9 year old grew in his writing skills and my 4 year old with speech issues started rhyming! We look forward to repeating it again next year!

Kristi
We have loved connected Christmas this season. My reluctant schooler has proclaimed it as the best school ever & would like to do it all year round. She's grown leaps in confidence during this. I have loved the simplicity and ease during this busy season. I'm absolutely loving the narration segment every day; the kids love that they're writing and drawing a book as the weeks progress.

Haley
We're on our last week of A Connected Christmas and I'll be sad when we're finished. The literature picks and activities are amazing. We've loved this intentional time together. My kids are 5, 3 and a rag along 1 and it has been so perfect for them. I see using this year after year.

Natalie
I am SO glad I purchased A connected Christmas! It's SO beautifully laid it, and does not require too much extra. It is JUST what we needed, a slower pace school to focus on the true meaning of Christmas.

Michelle
A Connected Christmas: Around the World Book List
Celebrate Christmas through the eyes of other cultures with these beautiful books. This FREE booklist includes a selection of 15 books from 15 countries with links to YouTube read-alouds for each selection.
download here
Related Blog Posts
Introducing: A Connected Christmas: Around the World

In this blog post, I explain in more depth my heart behind A Connected Christmas: Around the World and give a closer look inside the study.

read more

How to Incorporate Geography and World Cultures in Your Homeschool

It's important for me to give my children a global perspective. I want them to know about the world outside of the United States and different cultures. Here is how we sprinkle geography and world studies into our homeschool as we learn.

read more

Picture Books Celebrating Christmas Around the World

Celebrate Christmas through the eyes of other cultures with these beautiful books. This FREE booklist includes a selection of 15 books from 15 countries with links to YouTube read-alouds for each selection.

get the book list